The Inside Of This 4 In Polished Globe Is Painted With Wax To Create Swirls Of Gold And Rich Hues And Comes In A Satin Covered Gift Box. Candle Is Filled With A Translucent Wax And Scented With Mysteria. - U
UFor Women & Men
Item #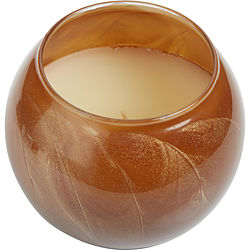 the inside of this 4 in polished globe is painted with wax to create swirls of gold and rich hues and comes in a satin covered gift box. candle is filled with a translucent wax and scented with mysteria. - u Burns 50 Hours
Design House:

Terra Cotta Candle Globe
No reviews written for this product
I received my candle and was very happy with the quality of it . And the scent is wonderful .
Written by Hazel T. on March 03, 2015
Read Review details ►
I have ordered these wonderful candles for myself and decided to give the Terra Cotta Candle to my best friend for Valentine's Day. She was absolutely thrilled with the beautiful packaging, delightful frangrance and lovely shape and size. She immediately placed it on her coffee table. I will surely be ordering more for myself and for her.
Written by mom of koko on February 21, 2013
Read Review details ►