The Inside Of This 4 In Polished Globe Is Painted With Wax To Create Swirls Of Gold And Rich Hues And Comes In A Satin Covered Gift Box. Candle Is Filled With A Translucent Wax And Scented With Mysteria.

100% Authentic
Item #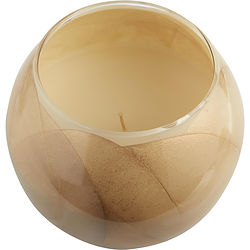 Zoom
the inside of this 4 in polished globe is painted with wax to create swirls of gold and rich hues and comes in a satin covered gift box. candle is filled with a translucent wax and scented with mysteria. Burns 50 Hours
Free Shipping in U.S. (orders over $59.00)
Design House:

Ivory Candle Globe
No reviews written for this product
Elegant black box with white satin lining inside is a lovely reusable blown glass bowl and candle. Have bought at least a dozen since 2010 as gifts. The fragance is wonderful. Everyone is impressed and and rave about it. Blown glass bowl comes in many color choices with the same candle and box. Signed up for site info years ago. Wait to buy until free shipping which is several times a year. Also buy their designer perfume.
Written by Joy De Lara on October 28, 2014