Blue, Brown And Cream Striped Box Set Contains One Ginger Tea & Honey Small Glass Vase & Three Votives Featuring Lime Basil, Ocean Breeze And Ginger Tea & Honey

100% Authentic
Item #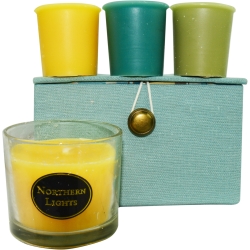 Zoom
blue, brown and cream striped box set contains one ginger tea & honey small glass vase & three votives featuring lime basil, ocean breeze and ginger tea & honey
Free Shipping in U.S. (orders over $59.00)
Design House:

Candle Gift Box Stella

Fragrance Notes:

Vetiver,Chamomile, Clary Sage, Nectarine, Magnolia, And Cassis.
No reviews written for this product
Candle gift box Stella! I received this to give as gifts for customers! I really like the nice box the candles come in and the candles smell wonderful! Great gift for a great price!
Written by Adrianne in Texas on June 07, 2015
I got the Candle Gift Box Stella ! I dearly love this candle combination and I think anyone would enjoy the pleasure it brings you !!!!!!!! Also , it would make a wonderful gift !! I do hope you will try the Candle Gift Box Stella !!!!! Sincerely , CS
Written by Anonymous on March 05, 2015