Blue, Brown And Cream Striped Box Set Contains One Ginger Tea & Honey Small Glass Vase & Three Votives Featuring Lime Basil, Ocean Breeze And Ginger Tea & Honey
UFor Women & Men
Item #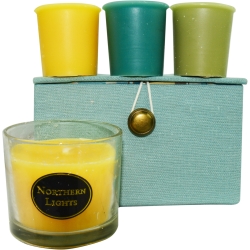 blue, brown and cream striped box set contains one ginger tea & honey small glass vase & three votives featuring lime basil, ocean breeze and ginger tea & honey
Free Shipping in U.S. (orders over $59.00)
Design House:

Candle Gift Box Stella

Fragrance Notes:

Vetiver,Chamomile, Clary Sage, Nectarine, Magnolia, And Cassis.
No reviews written for this product
Candle gift box Stella - this is such a lovely box with candles that smell Divine! Makes a nice gift to my customers and on sale! Great deal! One happy customer! :0)
Written by Adrianne on July 28, 2015
Read Review details ►
Candle gift box Stella! I received this to give as gifts for customers! I really like the nice box the candles come in and the candles smell wonderful! Great gift for a great price!
Written by Adrianne in Texas on June 07, 2015
Read Review details ►
candle gift box Stella is a nice set of candles, it is so elagant the box sits right out on the hall table. Nice sea green in color candle burns nicely
Written by draw9 on March 12, 2015
Read Review details ►
I got the Candle Gift Box Stella ! I dearly love this candle combination and I think anyone would enjoy the pleasure it brings you !!!!!!!! Also , it would make a wonderful gift !! I do hope you will try the Candle Gift Box Stella !!!!! Sincerely , CS
Written by Anonymous on March 05, 2015
Read Review details ►