There's definitely some big misconceptions about facial oils you've probably heard an earful about. But, while some myths claim that oils lead to excess breakouts or clogged pores, facial and body oils actually work to balance dehydrated and battered skin on an instant.
And sure you may be a bit reluctant to bring these products into your daily routine, but with the chilling winter air on the horizon, there's never been a better time to give your thick and moisturizing creams some extra help. Ready to beat dry and chapped skin once and for all? Prepare to fall in love with these amazing oils, sure to help balance your skin this winter.
For Intense Hydration
With the constant exposure to dry indoor heat and the harsh winter air outside, your skin may have a difficult time staying supple and moisturized. And yes, those heavy creams and facial masks can help perk up your skin, but adding some facial oils to your routine can also keep your complexion ready for anything winter throws your way.
For intense hydration that never quits, the Clarins Face Treatment Oil-Orchid Blue ($45.99) uses hazelnut oil and blue orchid extract to help soften, and hydrate damaged skin. Similarly, the Aesop Fabulous Face Oil ($81.99) smooths scaly winter skin, while the Cowshed Raspberry Seed Anti-Oxidant Facial Oil ($70.99) conditions skin from any harsh environmental aggressors.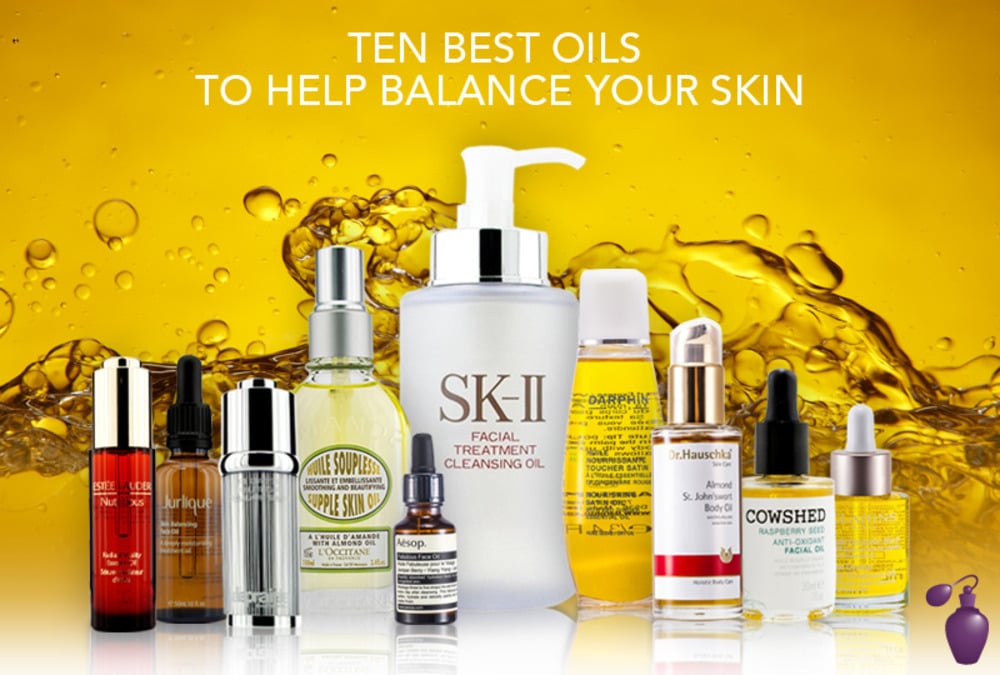 For Anti-Aging Protection
Aside from their noteworthy hydration benefits, facial oils can also work to help boost your anti-aging regimen. And while they shouldn't substitute your retinol-filled creams and lotions, antioxidant-powered serums like the La Prairie Cellular Swiss Ice Crystal Dry Oil ($306.99), helps prevent unwanted moisture loss, keeping those fine lines and wrinkles in check.
For A True Balancing Act
But if you are a sucker for multitasking products that can address multiple skin care issues all at once, it's best to find a balancing serum which can tame even the most unruly of skin.
If you're on the hunt for something you can wear under your makeup, the Estee Lauder Nutritious Radiant Vitality Essence Oil ($51.99) fortifies and protects the skin, without weighing it down. In addition, the equally lightweight Jurlique Skin Balancing Face Oil ($73.99) and the amazing SKII Facial Treatment Cleansing Oil ($60.99), make great wintertime essentials, as they detoxify and smooth the skin, without the unwanted greasiness or irritation.
For Handy Body Oil
And while we're all eager to feed our complexions with essential oils, it's just as important to give your body the same love and care. The skin surrounding our arms, legs and torso can become unbearably rough and dry, so finding exceptional body oils like the L'Occitane Almond Supple Skin Oil ($48.99) is always a great place to start. And if you are looking for more oils to add to your beauty arsenal, either the nutrient dense Dr. Hauschka Almond St. John's Wort Body Oil ($41.99), or the luxe Darphin Nourishing Satin Oil ($41.99) leaves your body velvety smooth.
Between the holiday season, great food and killer fashion, winter is undeniably one of our favorite times of year. But cuddly knits, get-togethers and long cuddle sessions aside, it's no real surprise the dry and chilling seasonal air can also be pretty harsh on our skin.
And while we may slap on the thickest creams and moisturizers we can find, beating chapped and dry skin goes beyond daily moisturization. To properly give our skin some care and rehabilitation, bringing exfoliating scrubs and washes into your routine is always a smart move, being that such products shed away the dry and flaking skin.
To properly adjust your skincare routine to the cold and changing elements, here's six essential exfoliators which will totally soften and smooth your skin in a jiffy.
For Softer Arms and Legs
While most people assume that exfoliation is crucial for a glowing complexion, it's also essential to exfoliate your body as well, especially since dry and chapped skin call also appear on your legs, arms and knees.
And yes, you can use a loofah help buff away dead skin, but it's best to add a skin softening scrub into the mix to give your skin some needed rejuvenation. To start, the Clinique Sparkle Skin Body Exfoliator ($34.99) gently removes dryness and leaves the skin glowing and smooth.
Similarly, the Dr. Brandt Microdermabrasion Skin Exfoliant ($68.69) uses gentle crystals to effectively polish skin without harsh irritation.
But if you want to step up your exfoliation regimen a bit, the Mama Mio Mio Double Buff Enzyme Exfoliator ($47.99) leaves skin buff and radiant, thanks to an exfoliating pumice, lava and bamboo formula.
For A Smooth Complexion
Like you would scrub your body, exfoliating your face proves to be a worthwhile task, being that it nips dry and dehydrated skin from becoming an overwhelming problem.
For some effective facial exfoliation, the Sisley Botanical Gentle Facial Buffing Cream ($68.69) easily improves skin's texture and tone, courtesy of fine polishing granules. But, if your skin is on the sensitive side, use the Dermalogica Daily Microfoliant ($55.99), as it exfoliates effectively without unwanted redness and irritability.
However, if you're skin is looking dull and lifeless, the Kiehl's Clearly Corrective White Skin Brightening Exfoliator ($45.99) works as fast pick-me-up, leaving your face looking luminous and healthy.
The fall season definitely brings about beautiful foliage and unbeatable fashion, but the changing elements can be hard on your skin, especially since the dry and chilling air leaves any complexion battered and damaged over time.
And unlike your summertime beauty regimen, which consisted of products guaranteeing lightweight moisture and sun protection, the newfound fall air commands for beauty essentials which instantly repair and remove dry skin upon an instant.
Tired of flaking skin compromising your beauty looks? Here's six products to prep your skin for the autumnal chill.
For Gentle Exfoliation
Exfoliation is crucial to any autumnal regimen, as scrubs and exfoliating products help shed away dead skin, and promote new cell turnover in the process. And while you can surely invest in some effective facial scrubs, opting for exfoliating cleansers is another way to deep cleanse your skin, and cash in on some skin-enhancing benefits.
Great for when you're pressed on time, we love the double duty Clarins One Step Gentle Exfoliating Cleanser ($31.99), as it gently removes flaking skin, without leaving your skin dry or dehydrated upon use.
For Hydrating Oils and Serums
While moisturizing creams should already be apart of your everyday routine, sometimes our skin needs some extra help maintaining daily hydration. For skin boosters that enhance and work alongside your creams, adding some facial oils and serums can leave supple, without weighing it down.
To achieve healthy and moisturized skin, we like alternating between the Clarins Face Treatment Oil ($38.99) and the Clarins New Hydraquench Intensive Serum Bi-Phase ($47.99) to keep hydration levels strong, and equipped against anything Mother Nature has in mind.
For A Deep Moisturizing Treatment
Easily taming breakouts and unbearable dry skin, using a deep treatment mask a few times a week is crucial to a maintain a flawless fall complexion. For an essential skin quenching treatment, the Glamglow Thirstymud Hydrating Treatment ($87.99) soothes and treats dehydrated skin with a nourishing mud formula.
For Overnight Rehabilitation
Your skin naturally repairs itself while you sleep, so you're definitely going to want to take advantage of this healing process, and perfect your skin while you snooze. Providing deep moisture overnight, both the La Prairie Cellular Night Repair Cream ($171.99) and the Dr. Jart + Water Fuse-Max Sleeping Mask ($57.99), leave your skin feeling fresh and smooth come the next morning.