Beauty by the Numbers
Beauty comes in all shapes, sizes, and numbers...and no matter what age you are, whether it be 3 or 103, I can assure you that there is a beauty product out there for you to feel good about yourself, resulting in inner (and outer beauty). I am a big believer that if you are truly happy and feel good about yourself, you feel beautiful. 
So, now this is the part where I go onto my beauty by numbers rant, and give you a fun product that will make you happy, fit for your age. Mix and match if you please, feel 'more mature' or go for the youngin' products I choose. Whatever it may be, let me know which product relates to you most and if I got it right ;)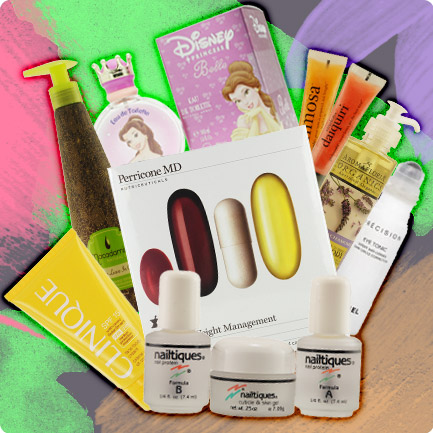 Under 10: Remember when you were 10? Or even younger, when Disney princesses meant the world to you? I'm sure you even had a favorite you can relate to, even to this day you still do, don't pretend! Well lucky for guys & gals 10 & under, there are a TON of beauty products for them now. Did someone say Beauty & the Beast perfume by Disney? Or what about Winnie the Pooh, Donald Duck, or the Prince of Persia scent. Perfect for boys and girls, Disney, Nickelodeon, and Dreamworks are creating fragrances, bath bubbles, shampoos, and amazing smelling gifts for kids!
In the 20's: Livin' it up in the 20's, with (almost) no care in the world, except for the fact that growing up and becoming an adult comes around now. The 20's means you can get away with wearing funky clothing styles, bizarre beauty trends, and well, wearing Mimosa's or Melon Daiquiri's on your lips! Philosophy's flavored lip shine is perfect for a 20-something.
In the 30's: The big 3-0! Skin care is an important part of your daily regimen, but any beauty nut can not stress enough that SPF is your # 1 beauty must have. Applying an SPF like Clinique's Face & Body cream with SPF 15 on your face and body daily will help prevent those sun spots and wrinkles in later years to come.  
In the 40's: Here it is, if it hasn't already, the metabolism is starting to slow down! There's not enough time in the world to hit the gym, make dinner after work, and so on and so forth. That's why we love Perricone MD's health and weight management supplement. These dietary supplements promote a healthy weight maintenance
In the 50's: Dark circles and spots and signs of fatigue start to show up in your eyes. But you don't need that! Chanel's precision eye tonic roll on is a great intensive eye treatment that will immediately energize your eye area! It's like a Redbull for the eyes!
In the 60's: You hair may be getting thinner, and you may decide to chop it all off because you just can't deal with the morning hair fixes, that doesn't mean you shouldn't nourish your locks! Macadamia Oil nourish leave in cream is a great fix for normal to dry hair and will keep your hair, long or short, healthy and strong.
In the 70's: Getting the right nourishment for your body is important, but don't neglect your pretty nailies! Nailtiques nail treatment kit is perfect for a quick fix, keeping your nails smooth and strong!
80's+: Look at you! You're looking fine and fabulous, and what better to do than better yourself with some aromatherapy products? Organics lavender and chamomile bath and body oil is the perfect solution for keeping your mind, body, and soul in a calm, relaxed, restored state.