In keeping with Hermes House traditions, master perfumer Jean Claude Ellena added a new masculine to the Hermes stable in 2013 that was based on a much-loved Hermes fragrance originally launched in 1986. Bel Ami Vetiver is a scent that tips it's hat to its older sibling Bel Ami, but emphasizes a sense of contemporary elegance for a whole new generation.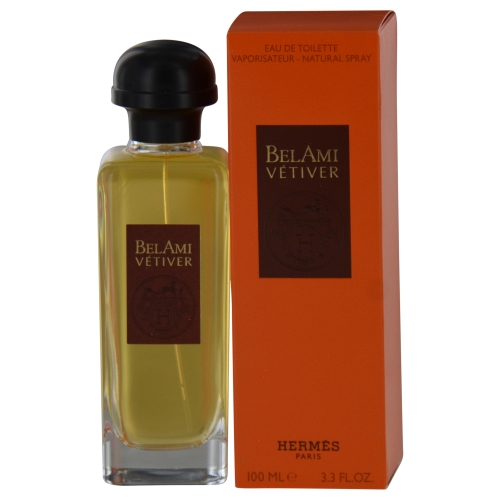 A woody, leather scent, Bel Ami Vetiver maintains the same silhouette as its predecessor (a very distinguished leather fragrance), but this time infuses it with a vibrant shot of vetiver. Vetiver - a perennial grass harvested in Indonesia and in India - lends an earthy green facet and a slightly dry smokiness to the composition... it imbues this eau de toilette with a sense of warmth and richness. A satisfying play between fresh green, smokey leather and a slight sweetness bestows this fragrance with everything one might ask for in a striking men's cologne.
Bel Ami Vetiver will impress in the boardroom as much as it will for a night on the tiles, but be warned – this stuff is addictive! As a flanking fragrance to a well known scent, no-one can tell if this little gem shall remain indefinitely in the Hermes masculine lineup, or if it will inevitably be retired as a limited production, leaving us to lament it's passing for years to come.
Get it while you can!
Arguably Guerlain's most successful cash-cow in recent years, is the the Le Petite Robe Noire collection which never fails to enchant with its collectable editions rendered with a mere stroke of a brush. Ma Robe Pétales is the latest addition to the line which surprisingly side-steps the somewhat expected lip-smacking cherry-soaked red-berry signature of its elders and instead, takes a fanciful pirhouette across newly-introduced facets of mandarin, freesia and pistachio. This makes for quite a leap away from the LPRN that we are accustomed to, and towards something more spritely and fresh.
This perfume feels vital and vivacious... there are occasional huffs of spring/summertime florals like rose, neroli and jasmine; but also a feeling of lantana (a very fragrant but poisonous flower that grows abundantly along footpaths - although this note is not actually listed). These lend a spritely lightness that is a welcome change from the existing LPRN olfactory benchmark. However, before you start to think it is sounding too far removed from the original, there is a familiar and endearing tonka / patchouli trail that is common to them both.
La Petite Robe Noire Ma Robe Petales will undoubtedly sell hand over fist... if not for its collectibility (and its potential brevity as a Guerlain flanker), but also for its perfume. A very solid and enchanting release, and the perfect companion for the Northern Summer!
Originally released as a summer limited edition scent as the followup to Tom Ford's collaborative effort with Lauder on their Azzure Oil in 2006 and Azzure Soleil fragrance in 2007; the delicious Bronze Goddess is now a welcome mainstay in the Estee Lauder lineup. Here, Lauder has succeeded in capturing incandescent warmth and solar radiance in a bottle... it is the epitome of summer glam!
Bronze Goddess is shimmering with sun-kissed mandarin and bergamot, and brimming with exotic jasmine, magnolia and orange flower... notes typical of summer in the tropics. But there is a wonderful honeyed, "chewy" gourmand quality to the scent too... its opening burst reminding me of Ford's triumphant Black Orchid. There is a delicious toasted coconut accord and lactic milk vibe that renders this perfume absolutely addictive. One might easily visualize tanned bodies smattered with fragrant oils reaching for chilled pina coladas or jewel-encrusted cellphones offered to them by cabana boys on silver trays. Bronze Goddess is about pool-side glamour and summer evenings of decadence and excess on the French Riviera.
Despite the name, this is one skinscent that deserves to be enjoyed by women and men alike. As I sit here typing at my computer, staring at a grey Australian winter sky, I am reminded again that I am a million miles away from the Côte d'Azur. The silver lining is that with a spritz of Goddess, I can close my eyes and feel - at least for a time - like a Hollywood "A"-lister.