Just when we thought we were mastering contouring like a Kardashian, the strobing trend has come along, and we couldn't be more excited. Unlike contouring, which had us shading our complexion in both light and dark shadows, strobing focuses on highlighting; giving you glowing and dewy skin instantly upon application.
And much easier to achieve compared to the effort usually put in contouring, the highly coveted strobing style uses glimmering products that brings both warmth and radiance to your face. To get this red carpet-ready look yourself, here's all the tips, tools and tricks you need to know when recreating this style at home. Trust us, with just a few tries and all the right products, you'll instantly be in love.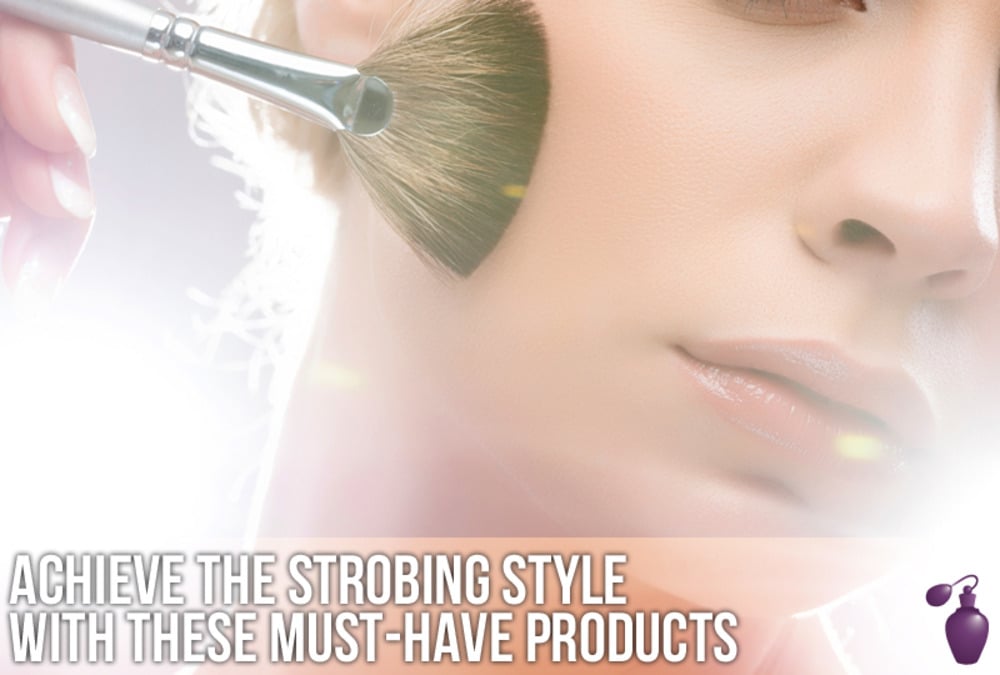 Create A Flawless Palette. Any beauty look starts with a flawless canvas, so before you start highlighting generously, it's to keep your skin looking clear without any imperfections. For that picture perfect foundation, we love the Giorgio Armani Luminous Silk Foundation ($55.99), as it offers maximum coverage with a nice touch of luminosity. Follow with your choice of an illuminating concealer for quick touchups.
Grab Your Brush. Once you've finished using your foundation, it's time to treat your face to some highlighting. To properly apply any product to any areas, you'll definitely want to grab a brush first to apply your product on evently. For fast and equal product application, the Bare Escentuals Hydrate & Brighten Brush ($12.99) makes a good staple inside any beauty bag.
For All Over Highlighting. Now that you've reached the highlighting step, it's important to note that you can use a variety of products to get that glowing result. Despite your product preference though, you'll want to use your product on areas like your cheekbones, brow bones and your nose for best results.
To start, it's best to decide what kind of finish you'd like. If you want a more controlled finish with minimal touch ups, start with the Jane Iredale Intouch Highlighter Complete ($34.99), as it guarantees fool-proof application that can highlight desired areas. Prefer a powder based product? The Bare Escentuals I.D. Bareminerals Illuminating Mineral Veil ($19.99) guarantees luminous skin, while shrinking pores and minimizing oily shine in the process.
For Touch Ups. If you find your glow fading throughout the day, there's nothing wrong with adding some touch up products to your beauty bag. To keep your cheekbones looking on point, we love the Fusion Beauty Ultraflesh Ninja Star 18 Karat Gold Finish Moisturizing Powder, ($23.99) as it keeps your makeup intact while enhancing your glow too. For another powder to have on hand, we're crazy about the Christian Dior Diorskin Nude Tan Healthy Glow Enhancing Powder ($54.99), as it keeps oiliness at bay, while giving your complexion come-hither radiance.
For The Works. Whether you're on the go or traveling nonstop this summer, having a good 'strobing survival kit' on hand always works wonders too. For every highlighting product you can imagine, the Fusion Beauty Ultraflesh Shine Box Highlight & Shimmer Collection: 2x All Over Highlighter, 2x All Over Shimmer, 1x All Over Enhancer 5pcs ($23.99) brings fast beauty fixes to your makeup bag in a flash. And with lots of products to choose from, you never have to worry about #beautyboredom thwarting any of your planned looks.
How to get Marc Jacobs Daisy Dream Inspired Nails:
Step 1: Pick out your favorite nail polish. Make sure that you choose colors that are complimentary to your favorite fragrance. For this tutorial, since we're focusing on Daisy Dream, we chose a white, light blue, and gold nail lacquer from one of our favorite brands...Butter London!
Step 2: Get inspiration for your nail design and grab your tools! I was inspired by the Daisy Dream bottle because it is decorated with white daisies motives and a highlight of gold sparkle. I didn't want to take the bottle design too literal so instead, I decided to use my nail lacquer colors and create a daisy dream inspired water marble nail design.
To achieve this look, you will need:
Nail Polish Remover
A toothpick (or a nail art tool kit)
One cup/bowl filled with warm water
Paper Towels
Q-Tips
Nail Lacquer
A fun imagination
Step 3: Take your nail polish remover and pour a drop or two of it into your cup with warm water. You should do this in order to thin out the nail polish so that it spreads out into the water easier - which will make it easier to create your design.
Step 4: Choose a polish color that you want to start with and take out the wand. Hold it over the cup, and let the drop fall in the water. It might take a few minutes for the first drop to fall so be patient! Don't try to wipe or dip the wand into the water.
Step 5: Once the polish drop falls into the water, watch how quickly it moves across the water's surface. As you're watching this, you should grab your next polish color, take out the wand, and add a drop of polish into the center of the first polish.
Step 6: Keep alternating colors until you achieve your desired level of color distribution. Be careful though - you're going to want to decide quickly because the longer you take, the quicker you're polish is hardening in the water.
Step 7: Take a toothpick and start creating the design that you want - draw lines, swirl the colors - whatever you want.
Step 8: When done, dip your nail into the cup and count to ten seconds for the outer nail polish to dry. To avoid a messy clean up, take the toothpick and in a spinning motion, pick up the nail polish that is left over in the cup.
Step 9: Take your finger out of the cup and take a look. The design should be printed on the nail.
Step 10: Repeat these steps to all of the other nails that you want to be designed the same way. Don't worry if it's messy at first. That's why you have the nail polish remover and the q-tips!
Step 11: Once you've created your design on all of the nails that you want, add a quick drying top coat to it and then begin to clean up.
Now your nails match your favorite fragrance!
Are you or your man a sucker for old-school fragrances with a scruffy "rough-n-ready" slant? Rochas Globe was launched in 1991 off the back of hundreds of other 80's powerhouse masculines, and is a great olfactory snapshot of its time! Its devoutly masculine, but with surprising nuances that impress and entice.
I remember wearing Globe in the early 90's... at the time it was groundbreaking and represented a whole world of endless possibilities. Looking at it now in retrospect, I rediscover an incredibly good masculine scent at a truly unbeatable price! Its flight is shimmering with brisk citrus notes, sappy pine, caraway and peppery carnation. It feels sharp and aromatic like crisp alpine air, and yet down-to-earth and grounded with its bitter leather, musks and woods. Globe is the embodiment of the conspicuous male vigor of its age, but also holds all the gratifying hallmarks of a scent created by such an accomplished and long-standing House. The Rochas name is synonymous with style, sophistication and refinement.
Globe Man is a great all-rounder for men of all ages... it is something that is bold and commanding, but in a non-arrogant fashion. Truly one of the nuggets that has been buried by so many characterless perfume releases ever since.