Alright you outdoors adventurer, you; now that you're finally slowing down, shaking the lake water out of your hair and kicking the trail dirt out of your sneakers, your summer-kissed skin needs a little attention.
Dryness; scratches, cuts, and bites (which lead to scarring); and acne are the most common skin issues among nature enthusiasts. So after a few months, weeks, even a day, out in the elements your skin is going to need a nutrient-rich boost. In other words, some Aroma Natural Omega X Mango Butter.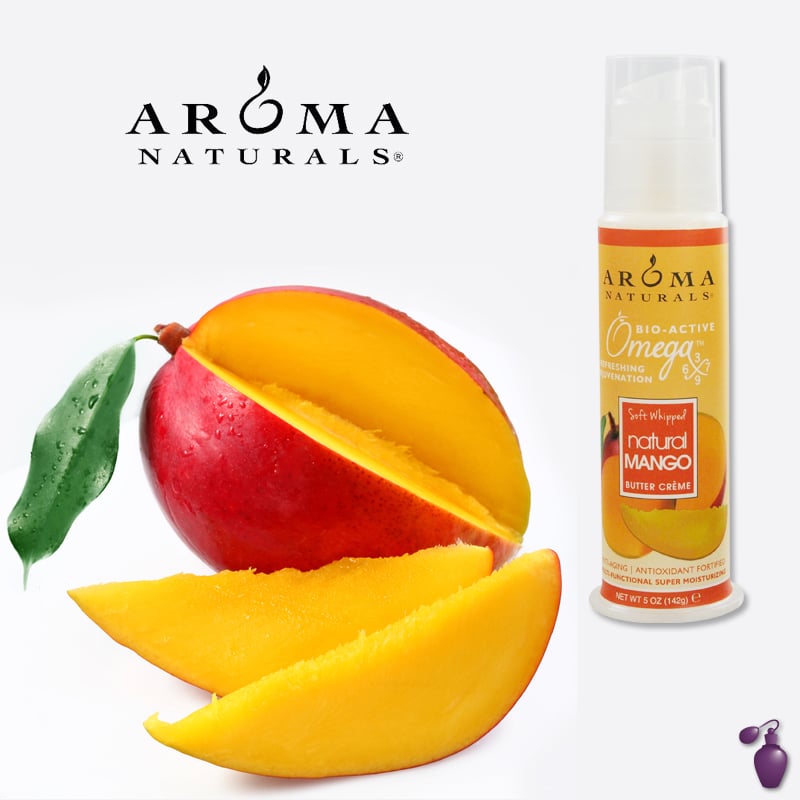 Sooth and nourish your skin back to health with this rich cream containing natural mango butter, organic coconut water, and organic aloe vera gel for quick hydration that helps to restore long lasting moisture to your skin. To retain the health benefits of each ingredient they are combined using Cold pHusion, Aroma Naturals' new Green Chemistry technique where little or no heat is applied to make their creamy emulsions.
Perfect for all skin types, Omega X Mango Butter creates a natural looking protective finish -- without the greasy residue -- and can be used under makeup.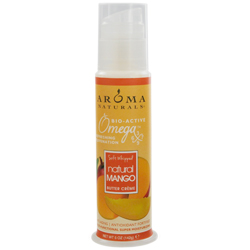 Ingredient Check (Vegan)
Water (Aqua), Organic Aloe Barbadensis (Aloe Vera) Leaf*, Mangifera Indica (Mango) Seed Butter, Glycerine (Kosher), Propanediol (Corn), Prunus Dulcis (Sweet Almond) Oleosomes, Cetearyl Alcohol, Ethyl Macadamiate, Caprylic/Capric Triglyceride, Cetearyl Glucoside, Organic Camellia Sinensis (Green Tea) Leaf Extract*, Organic Cocos Nucifera (Coconut) Water*, Tocopheryl Acetate (Vitamin E, 5,000 IU/450g), Plukenetia Volubilis (Sacha Inchi) Seed Oil, Organic Helianthus Annuus (Sunflower) Seed Oil*, Tocopherol & Tocotrienol Esters (Vitamin E), Organic Hippophae Rhamnoides (Seabuckthorn) Oil*, Borago Officinalis (Borage) Seed Oil, Vaccinium Macrocarpon (Cranberry) Seed Oil, Sodium Ascorbyl Phosphate (Vitamin C Ester), Linum/Sitatissimum (Linseed) Seed Oil, Organic Punica Granatum (Pomegranate) Seed Oil*, Squalane (Olive), Xanthan Gum, Retinyl Palmitate (Vitamin A), Caprylhydroxamic Acid, Caprylyl Glycol & Xylitol. *Certified Organic Ingredient
All Natural Skin Benefits
Mango Butter is rich with vitamins that serve as natural UV filters combating free radicals found in the sun's rays, actually protecting your skin from sunburn. But let's say you've already been sun-kissed, well then the vitamins will serve as a moisturizer to soothe your sunburned skin.
Aloe Vera, speaking of sun-kissed skin, contains auxin and gibberellins, two hormones that ease inflammation. But it's not just sunburn this extract works on, aloe vera is also known to stimulate cell growth in turn healing heal chronic skin conditions, such as psoriasis, acne and eczema.
Coconut Water will most certainly quench any dehydration your skin has experienced this summer. Loaded with anti-viral, anti-microbial, and anti-fungal properties it also protects the skin from any germs looking to make their way through dry, cracked skin.
Sweet Almond Oil is swirling with calcium, potassium, magnesium, and vitamins E and D, the secret ingredients of scar reduction and stretchmark prevention.
Pomegranate Oil contains punicic acid, an omega 5 fatty acid, which is known to hydrate dry skin and prevents moisture loss.
Why we Love it!
Their ingredient sourcing is no joke. Aroma Natural's food grade quality ingredients are sourced from around the world and flown in to their U.S.-based factory daily.
They've chosen to only work with companies that are transparent, responsible, and respectful of their people, the quality of their products and processes, understand and participate in sustainability and ecology improvement plans. So much so that cool fact about the label; it's printed on a water-free and tree-free material.
Don't get us wrong, yeah, the supply chain is not perfect yet, but with caring about doing the right things, Aroma Natural is helping make a difference every day -- and we're not just talking about when it comes to soft skin.
•Fragrance Free
• Paraben-free
• Non-GMO
• Gluten-free
• Allergy Friendly
• Vegan
When he wants you to toss him a beer this summer, because you know he will, reach for Redken Mens Clean Brew Anti-grit Shampoo instead.
Ok, ok, we totally sound like some cheesy commercial. But seriously, this shampoo is a summer must-have! Because well, it works.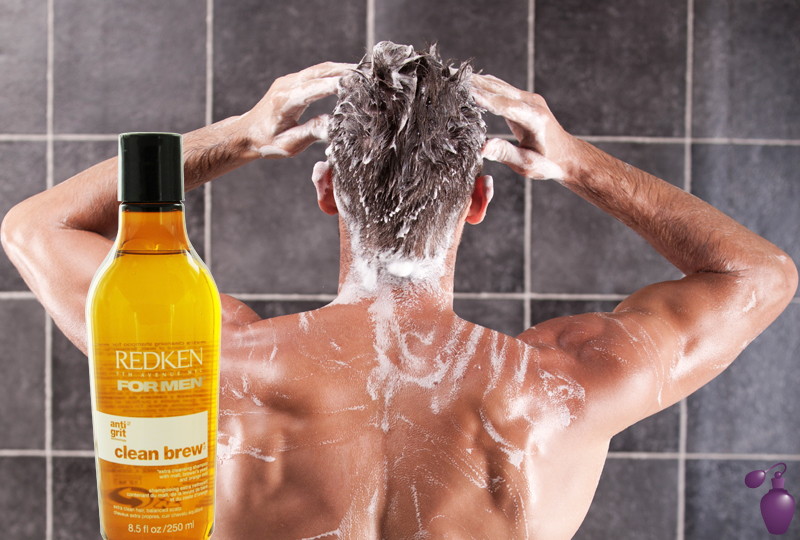 Now you know how greasy a guy's hair can get during the hot summer months, and if he's working outside (construction, mechanic, personal trainer, etc) you know how much dirt can stick to that grease. And let's not forget all those goopy gels and stiff waxes and clays some guys smooth through their hair. Uggh, what a mess. Formulated with Redken's anti-grit technology, this shampoo can cut through all of that though.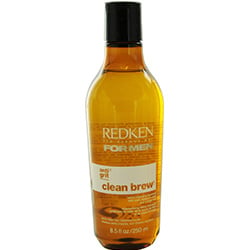 But all he really needs to know is that the Clean Brew Shampoo you just tossed him is inspired by top-notch ales. Sure he'll be blown away by the beer bottle design, but once he hears about the three key ingredients -- orange zest, which breaks down oily deposits and deep cleanses the scalp; brewer's yeast, which strengthens the hair and increases volume; and malt, which conditions and adds shine -- he'll be cracking open the bottle.
Clean Brew is great for daily use, but we recommend sudsing it up twice a week. Aside from the cleansing benefits, this shampoo contains an intoxicating blend of citrus, musk and apple notes.
They're here! Yes, those pesky mosquitos have touched down for some summer fun (so they see it). But let's not forget about their nippy friends flies and ticks, because they're in town too.

So you know what's next; biting, itching, burning, scratching. However, we've got a pretty surefire way to beat the inevitable bite -- and without relying on harsh insect repellents, which by the way can do some damage to your skin. The all-natural insect repellent answer? Essential oils.

Seriously, these oils deter mosquitoes, flies, and ticks all the while promoting optimal skin health.

When it comes to concocting an essential oil Do It Yourself Insect Repellent the main thing you need to remember is a little oil goes a long way , and also that you should never mix oils with water.

So with that in mind, just follow our recipe below being sure to include the essential oil that pertains to the insect you're looking to avoid.

A Repelling Recipe

What you'll need:
Essential Oil of choice
Carrier oil of choice ( jojoba, sweet almond, or avocado), if you'd like a cream-based repellent
Witch hazel, if you'd like a spray repellent

In a small bowl, place 2 tablespoons of carrier oil or witch hazel.
Add 10-25 drops of essential oil. No more than 25 drops, as the repellent is meant to be 5-10% essential oil.
Stir, let sit for 3 minutes, and apply a test patch to your inner arm.

If redness occurs, discard the batch. If you react well to the mixture, you're good to go.

When applying, be careful to avoid all sensitive areas. You'll need to re-apply the repellent about every hour and definitely after swimming and exercise.
The Essentials