FragranceNet.com, Inc. Sweepstakes
Win What You Want Sweepstakes Official Rules
NO PURCHASE OR PAYMENT NECESSARY TO ENTER OR WIN. A purchase or payment will not improve your chances of winning. ODDS OF WINNING DEPEND ON THE NUMBER OF ELIGIBLE ENTRIES TIMELY RECEIVED.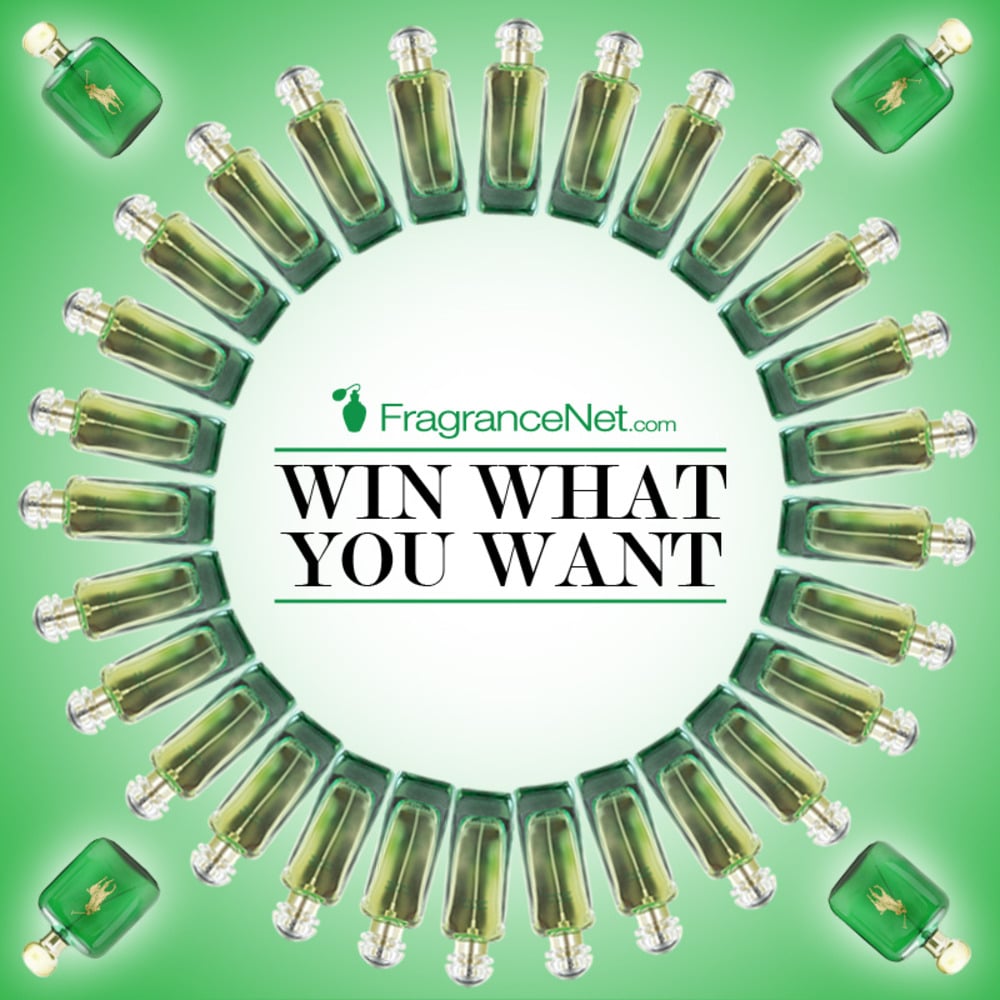 The FragranceNet.com, Inc. ("Sponsor") Win What You Want Sweepstakes will be conducted as a weekly Sweepstakes (collectively, the "Sweepstakes"). The Sweepstakes entry period (each an "Entry Period") is specified below and designates the time in which all entries must be received. Eastern Time shall control for all purposes of this Sweepstakes. Sponsor's clock shall be the official timekeeper for the Sweepstakes. The Sweepstakes is governed by these Official Rules and is subject to all applicable federal, state and local laws and regulations. Void where prohibited.
1. Eligibility. The Sweepstakes is open only to legal residents of the 50 United States who are 18 years of age or older at the time of entry. Proof of residency and age may be required prior to award of any prize. Employees, officers and directors of Sponsor, its affiliates, partners, advertising and Sweepstakes agencies, and their immediate families or members of the same household (whether related or not) of such employees/officers/directors are not eligible to enter. "Immediate family members" shall mean parents, step-parents, children, step-children, siblings, step-siblings, or spouses, regardless of where they live. "Household members" shall mean people who share the same residence at least three months a year, whether related or not. In order to enter the Sweepstakes or receive the prize, you must fully comply with the Official Rules and, by entering, you represent and warrant that you agree to be bound by these Official Rules and the decisions of the Sponsor, whose decisions shall be binding and final in all respects relating to this Sweepstakes.
2. How to enter. To participate in the Sweepstakes, you must have a valid Facebook account. If you do not already have a Facebook account, you can create one free of charge at www.facebook.com. To enter the Sweepstakes, during the Entry Period: (1) like FragranceNet.com https://www.facebook.com/FragranceNet.com on Facebook; (2) go to the Facebook page every Wednesday at 10:00am EST where the official entry post for the week will be posted; (3) post a comment on the official entry post with the item name and link from our website that you would love to win. Don't forget to include our hashtag #FragranceNet so we can see your entry!
Limit one (1) entry per person, per household during the Sweepstakes Period. Use of any automated system to participate is prohibited and will result in disqualification. Entrants are eligible to win only one (1) Win What You Want Sweepstakes in any ninety (90) day period. Although it is free to enter, standard message and data charges may be incurred if you use your mobile device to enter the Sweepstakes. Entries will be deemed to have been submitted by the authorized account holder of the Facebook account from which the entry post was made, as identified by the authorized account holder of the primary email address associated with that account. "Authorized account holder" is defined as the natural person who is assigned to an email address by an Internet access provider, online service provider or organization (e.g., business, educational institution, etc.) that is responsible for assigning email addresses for the domain associated with that email address.
Each Sweepstakes will take place on the Entry Dates as specified below.
All entries become the property of Sponsor upon receipt and will not be acknowledged or returned.
3. Entry dates. Online entry for each Sweepstakes is open during the following entry periods:
Start date: Wednesday, March 2, 2016, 10:00 am (ET) – End date Wednesday, March 2, 2016, 11:59 pm (ET)
Start date: Wednesday, March 9, 2016, 10:00 am (ET) – End date Wednesday, March 9, 2016, 11:59 pm (ET)
Start date: Wednesday, March 16, 2016, 10:00 am (ET) – End date Wednesday, March 16, 2016, 11:59 pm (ET)
Start date: Wednesday, March 23, 2016, 10:00 am (ET) – End date Wednesday, March 23, 2016, 11:59 pm (ET)
Start date: Wednesday, March 30, 2016, 10:00 am (ET) – End date Wednesday, March 30, 2016, 11:59 pm (ET)
Entries received after the closing times will not be considered. After each Entry Period, Sponsor or its designee will conduct a random drawing using randomization methods selected by Sponsor, in its sole and absolute discretion, and select two (2) potential prize winners from all eligible entries received during the applicable Entry Period. Winners will be contacted with a reply to their original Facebook post and sent a Private Message. Winners will also be announced approximately two business days after the closing date of the competition. All decisions of Sponsor on all matters relating to this Sweepstakes, including, without limitation, the selection and determination of winners of this Sweepstakes shall be final and binding. The potential winner may be required to sign and return an Affidavit of Eligibility, Release of Liability and Publicity Release (where permitted by law) and/or other related documents (collectively, the "Affidavit") by the date or within the time frame specified by Sponsor or an alternate winner may be selected. If potential winner is under the age of majority in its state of legal residence, the prize will be awarded to winner's parent or legal guardian and the Affidavit must be executed by such parent or legal guardian. If a potential winner is not able to be contacted by Sponsor within seven (7) days following the date notice or attempted notice is sent, declines, fails to return any required documents, does not complete the verification process within thirty (30) days, or is otherwise not in compliance with these Official Rules, the prize may, in Sponsor's sole and absolute discretion, be forfeited and/or awarded to an alternate winner.
4. Prizes. There will be 2 prize winners in total for each Sweepstakes. The prize will vary from week to week and it is the entrant's responsibility to ensure they are clear in their entry on what prize they have selected to potentially win. The approximate retail value ("ARV") of the prizes will vary depending upon the prize awarded but each prize will not, under any circumstance, exceed an ARV of $500. Prizes will be as announced on the FragranceNet.com Facebook page. If prize or any portion thereof is not accepted, is unclaimed or unused by a winner, it will be forfeited and will not be substituted. No transfer, refund, cash redemption, substitution or replacement of prize or any prize component permitted, except that Sponsor reserves the right, in its sole discretion, to substitute a prize of equal or greater value (or cash equivalent) if a stated prize is unavailable or for any other reason. The prize winner will receive a message from Sponsor with additional instructions on how to collect prize. Winners are responsible for any taxes payable on prizes. Prizes will be awarded only if the potential prize winner fully complies with these Official Rules. All costs and expenses associated with the acceptance and/or use of a prize to the extent not expressly stated herein as being awarded, including without limitation all federal, state and local taxes, are the sole responsibility of the winner. SUCH PRIZES ARE PROVIDED "AS IS" WITHOUT WARRANTY OF ANY KIND, EITHER EXPRESS OR IMPLIED, AND SPONSOR HEREBY DISCLAIMS ALL SUCH WARRANTIES, INCLUDING BUT NOT LIMITED TO, THE IMPLIED WARRANTIES OF MERCHANTABILITY, FITNESS FOR A PARTICULAR PURPOSE AND/OR NON-INFRINGEMENT.
5. License/Usage. By entering the Sweepstakes, entrants fully and unconditionally agree to be bound by these Official Rules, which will be final and binding in all matters relating to the Sweepstakes. By entering, winner/s agree to that Sponsor or its designees may use their names, photographs, likenesses, biographical information, city and state of residence and/or statements made by winner/s regarding the Sweepstakes or Sponsor, for purposes of advertising, trade, or promotion in any media (now known or hereafter known) throughout the world in perpetuity, without further compensation, notification or permission, unless prohibited by law. Nothing contained herein shall be deemed to obligate Sponsor to make use of any of the rights granted herein and winner/s waives any right to inspect or approve any such use of any and every nature and kind.
6. Release and Liability. By entering this Sweepstakes, each entrant releases, holds harmless, covenants not to sue, and forever discharges Sponsor, Facebook, and their respective parent companies, affiliates and subsidiaries, retailers, divisions, advertising and Sweepstakes agencies, and all others associated with the development and execution of this Sweepstakes, and each of their respective directors, officers, employees, agents, shareholders, representatives, successors and assigns (all such individuals and entities collectively referred to herein as, the "Released Parties"), from, against, and as to any and all third-party claims, actions, damages, losses, liabilities, costs, expenses, injuries or causes of action of any kind that in any way now or hereinafter may arise from or relate to the Sweepstakes including without limitation, in connection with (i) the administration of the Sweepstakes, including without limitation typographical, printing, seeding, human or other errors relating to or in connection with this Sweepstakes, the processing of entries, the announcement of any prizes or any related materials, inaccurate, fraudulent, incomplete, illegible, late, lost, stolen, misdirected, undelivered, incomplete, damaged or postage due entries or mail, or any delays in delivery or lack of availability of any prize or prize materials, and/or (ii) entrant's participation in this Sweepstakes or acceptance or use of any prize, or participation in any prize-related activities, including but not limited to any travel related thereto, and death and bodily injury, due in whole or in part, directly or indirectly, to participation in the Sweepstakes or any Sweepstakes-related activity. No more than the stated number of prizes will be awarded. Sponsor reserves its right, at its sole discretion, to disqualify any individual who tampers in any way with the any part of the Sweepstakes and/or who submits a fraudulent entry or an entry not otherwise in accordance with these Official Rules, and to cancel, terminate, modify or suspend the Sweepstakes or any element thereof. Sponsor reserves the right in its sole discretion to disqualify any individual who is found to be acting in violation of these Official Rules; in an unsportsmanlike or disruptive manner, or with the intent to disrupt or undermine the legitimate operation of the Sweepstakes; or with the intent to annoy, abuse, threaten or harass any other person. Without limiting the foregoing, in the event Sponsor is prevented from continuing with the Sweepstakes as contemplated herein by any event beyond its control, including, but not limited to, fire, flood, epidemic or other national health emergency, earthquake, explosion, labor dispute or strike, act of God or public enemy, satellite or equipment failure, riot or civil disturbance, terrorist threat or activity, war (declared or undeclared,) or any federal, state or local government law, order, or regulation, order of any court or jurisdiction, public health crisis, or other cause not reasonably within Sponsor's control, then Sponsor shall have the right, in its sole discretion, to modify, suspend, extend or terminate the Sweepstakes.
7. Disputes. Except where prohibited, entrants agrees that any and all disputes, claims and causes of action arising out of, or connected with, the Sweepstakes or any prize awarded shall be resolved individually, without resort to any form of class action, and exclusively by the appropriate court located in the Courts of the State of New York for Suffolk County. Entrants hereby irrevocably consent to the personal jurisdiction of said courts and waive any claim of forum non conveniens or lack of personal jurisdiction that they may have. All issues and questions concerning the construction, validity, interpretation and enforceability of these Official Rules, entrant's rights and obligations, or the rights and obligations of the Sponsor in connection with the Sweepstakes, shall be governed by, and construed in accordance with, the laws of the State of New York without giving effect to any choice of law or conflict of law rules (whether of the State of New York or any other jurisdiction), which would cause the application of the laws of any jurisdiction other than the State of New York. The remedy for any claim shall be limited to actual damages, and in no event shall any party be entitled to recover, and the parties hereby waive all rights to claim, indirect, punitive, exemplary, consequential, or incidental damages, including attorney's fees or other such related costs of bringing a claim, or to rescind this agreement or seek injunctive or any other equitable relief or to have damages multiplied or otherwise increased.
THE PARTIES HEREBY WAIVE THEIR RIGHT TO JURY TRIAL WITH RESPECT TO ALL CLAIMS AND ISSUES ARISING OUT OF OR RELATING TO THIS AGREEMENT WHETHER SOUNDING IN CONTRACT OR TORT, AND INCLUDING ANY CLAIM FOR FRAUDULENT INDUCEMENT THEREOF.
8. Use of Data. Sponsor will be collecting personal data about entrants online, in accordance with its privacy policy. Please review the Sponsor's privacy policy athttp://www.fragrancenet.com/f/net/privacy.html. By participating in the Sweepstakes, entrants hereby agree to Sponsor's collection and usage of their personal information and acknowledge that they have read and accepted Sponsor's privacy policy.
9. Sponsor. FragranceNet.com, Inc. 900 Grand Blvd, Deer Park, NY 11729. The Sweepstakes is in no way sponsored, endorsed or administered by, or associated with, Facebook. Any and all questions, comments or complaints regarding the Sweepstakes must be directed solely to Sponsor, not Facebook. You are providing your information to Sponsor (FragranceNet.com), not to Facebook.
10. Winner List. To obtain a copy of the winners' list, send a self-addressed, stamped envelope to: FragranceNet.com, Inc. Win What You Want Sweepstakes, 900 Grand Blvd, Deer Park, NY 11729 within 90 days of the winner announcement.
The most successful masculine to emerge from the house of Hermès in recent times is irrefutably J.C Ellena's woody/spicy triumph Terre d'Hermès... a scent launched in 2006 that went on to win the FiFi (Fragrance Foundation's) Men's Fragrance of the Year accolade in 2007. Ellena's proficient nose produced an eau de toilette that simply won the world over. In 2014, some 7 years later, Hermès revisited Terre and breathed new life into its lungs with the launch of Terre d'Hermès Eau Trés Fraîche... a woody aromatic comp with an engaging thalassic slant.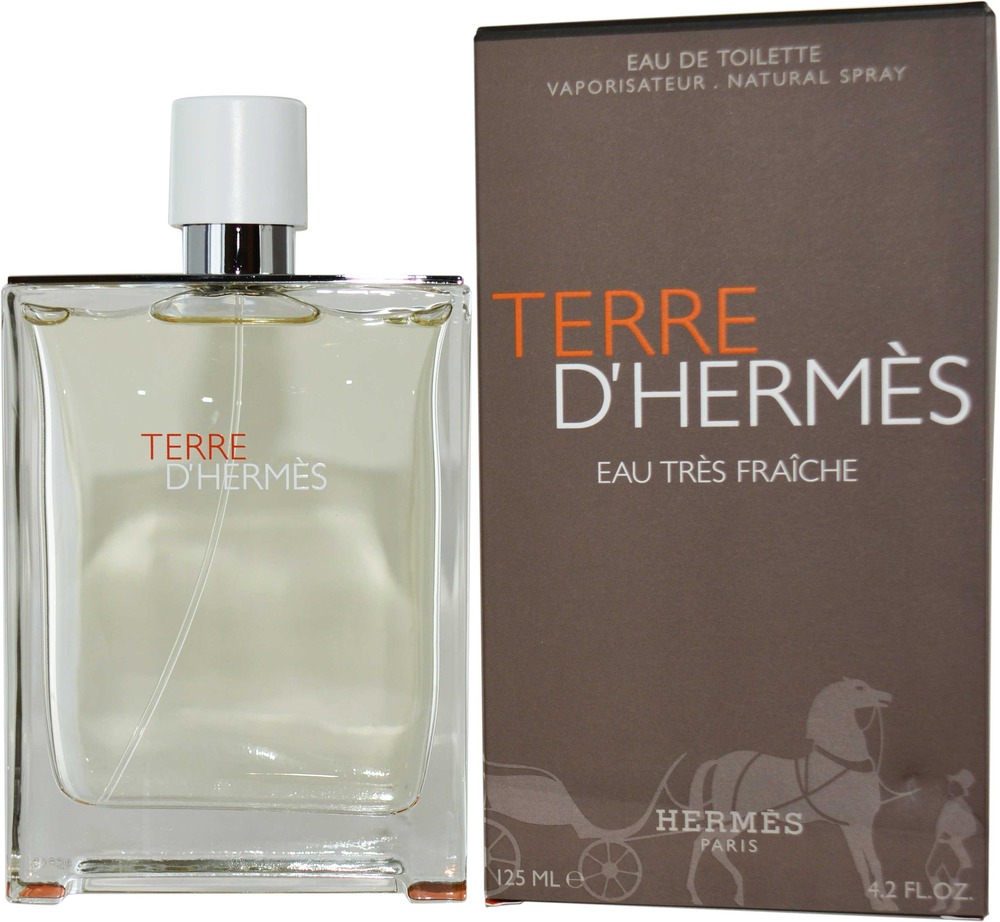 Eau Trés Fraîche, out of the gates, feels a little like one of the HermèsEau de Colognes... in fact, Eau de Pamplemousse Rose springs to mind in the cursory moments it dances on skin. Grapefruit and bergamot meet the nose with a zesty tang that is somewhat less sweet than the pulpy orange opening of Terre d'Hermès... it already feels more sheer and diaphanous than its older sibling. Moments later, the familiar Eau d'Hermes prickle of spice, pale woods and leather wash over the nose, infusing it with evocations of yesteryear. But it is in this next phase that Eau Trés Fraîche starts to shift trajectory... a pelagic, watery facet shifts forward, proffering an almost saline quality. The heart is awash with geranium that is both citrusy and aromatic, but the whole composition remains translucent and somehow feels almost blanched.
Terre d'Hermès Eau Trés Fraîche is a surprising departure from the original Terre, but one cannot feel disappointed with this fragrance that promises to deliver a cooling aromatic respite from the heat over the spring summer months. A great one for daytime!
Founded in 1952 by Hubert de Givenchy, the company that went on to carry his name has become a global giant in the fashion, accessories and fragrance world! With a list of fine fragrance releases as long as my arm (the first of which was launched in 1957), Givenchy hang on to a big slice of the fragrance market with a handful of their classics – one of which is the Alberto Morillas creation of 1998, called Pi.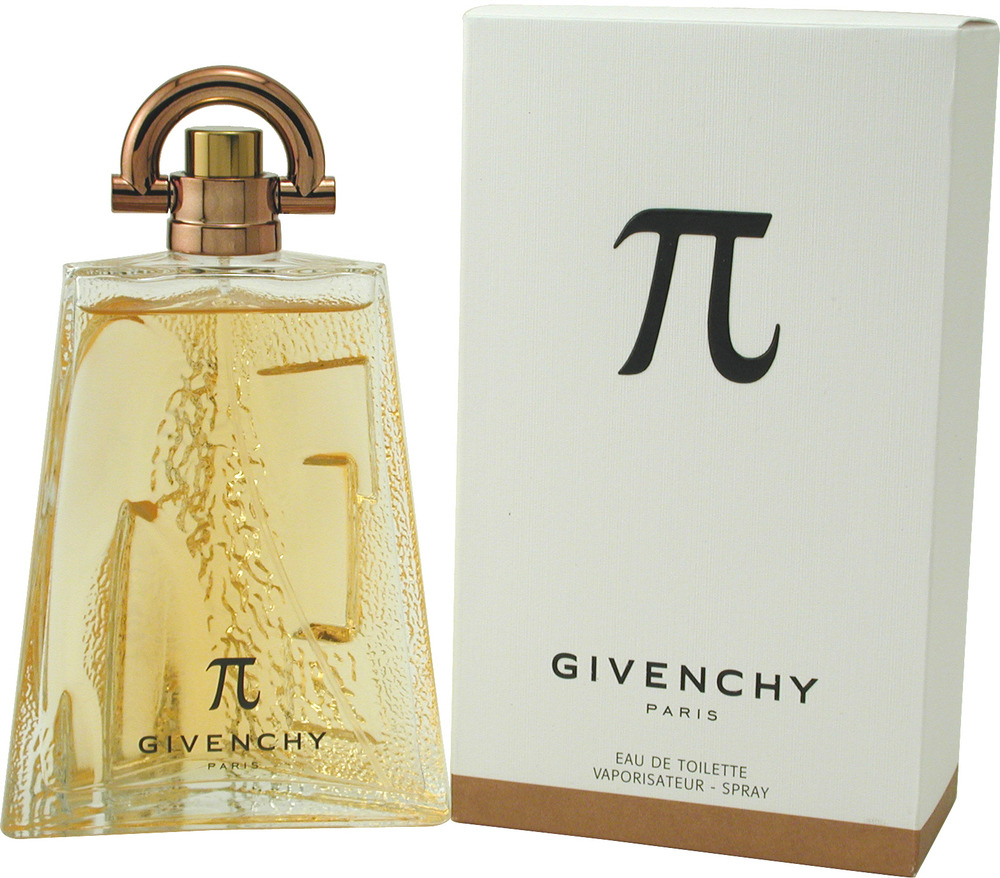 Pi – whilst marketed to men – is loved by both sexes for its delectable vanilla / almond composition which leaves a steady string of 'sweet-tooths' swooning in its wake. A woody oriental for men, Pi combines accords of tangerine, tarragon, anise, rosemary, geranium and basil with sensuous notes of vanilla, tonka bean, almond, pine needles and benzoin. The sum of these components makes for a luscious fragrance that one just longs to cuddle up to. Presented in a beautiful monolithic triangular flacon, Pi is a classic cologne that must be revisited by both ladies and gents. (Lovers of Laura Biagiotti's Roma and Paloma Picasso's Minotaure will find a common thread here).
Toothsome, addictive and gratifying, Pi is the ideal scent for an autumn/winter date night!