Out with the old and in with the new…. As one year ends and another one begins, it's time to make those annual resolutions and attempt to stick by them for as long as we possibly can. It recently occurred to us, however, that these lofty life goals can actually be met and kept if they are pursued through a bounty of beauty products. Sounds intriguing, right? So we'll show you what we mean.
Lose weight. After all of the holiday parties and numerous meals packed with plenty of calories – a gift, by the way, that you can't return! – shedding a few pounds becomes a big priority. Here's where Payot Puissance Minceur, a Slimming Wrap with a Concentrate of Caffeine will definitely come in handy to help fast track the fat loss.
Manage stress. Work, family, friends and just plain day-to-day life demands can cause anxiety – especially during the season of giving. To start 2015 at ease, turn to Relaxing Aromatherapy One 2.5x1.75 Inch Time Soy Candle. With it, a sense of calm will surround you for up to 15 hours through a combination of essentials oils of luxurious lavender and tantalizing tangerine.
Get healthy. This should be on everyone's to do list, no matter what size or age you are, because wellness is where it's at. The largest organ on your body definitely deserves some special care, so Nu Derm Healthy Skin Protection SPF 35 by Obagi is one product you should consider for shielding and saving it from harmful external elements.
Save money. This resolution is a lot easier said than done - there's so much to purchase and so little time! Trying before buying is the key here, and you can do that through samples sizes. Take for example, Clarins Extra-Firming Luxury Collection . It offers a 1.7 oz. day cream, .7 oz. eye cream, .5 oz. neck cream and .53 oz. night cream all organized and packaged in a classic keepsake box.
Recycle, reuse. Helping the environment is a popular resolution right now, since more and more people are becoming aware of the need to reduce waste. That's one of the reasons we adore Love Peace & The Planet Eco Awesome Moisturizing Conditioner by Tigi .This unisex product pampers your hair and mother earth too with 80% organic content and a tube made up of 50% post-consumer recycled material.
Astro Assets Palette Presents
Looking for the perfect gift for that certain someone? Its a sign you are here, because you are at the right place! Find their astrological sign and you'll see, we will make it easy for you to find the perfect gift for them.
Scorpio is an exceptional sign of the Zodiac, so of course, those whose birthdays coincide with it deserve exceptional gifts – especially at holiday time. That's where Exceptional – Because You Are Eyeshadow and Lip Gloss Palette I comes in handy.
S is for Sagittarius, a sign that's known for being stylish and chic. A holiday gift that's hits the target for this archer would bePupa Haute Couture Palette A Porter (Red Mix) #01 Bon Ton Shades .
Capricorns can be pretty artistic when they put their minds to it. Finding the perfect present is simple to create if you just grab a hold of Christian Dior 5 Color Designer All In Artistry Palette No. 008 Smoky Design .
A is Aquarius, and as a water-bearing sign they just go with the flow. With inspiring hues that include a shade of blue, Guerlain Ecrin 6 Couleurs Eyeshadow Palette #29 Rue de Sevres is a gift that rocks refreshing.
No need to go fishing for the ideal present for Pisces. This sign is an idealist and compassionate, so they dream of having it all – and deserve it. Clinique All in One Colour Palette offers just that with 1x face powder, 1x blusher, 4x eyeshadow, 1x mascara and 5x lip colors.
Dynamic and energetic, Aries always charges forward on adventurous journeys. Beauty-wise that means Lancome Magic Voyage Lip & Eye Palette is our product pick for this sign with its spell-bounding 6x eyeshadows, 3x lip colors and 2x applicator.
Taurus is one of the most driven signs of the Zodiac, so it's no surprise having plenty of goals to strive for is important to them. They also like lots of beauty choices, so Clarins Eye Quartet Mineral Palette #05 Violet is a dream come true for them.
The twin nature of Gemini means they enjoy everything in two's so their experience is always twice as nice. A present they would find perfect is no doubt Stila Pocket Palette Lip Gloss Compact Quad No. 2 .

Cancer is an emotional sign but those born under it always remains calm, cool and collected. Speaking of smooth, a gift for them that will keep on giving is Pure Color 5 Color Lip Palette #01 Extravagant.
Brave and regal just like a lion, Leo loves ruling the scene and shining in the spotlight. Here's where Jane Iredale Artists' Eyes Eye Shadow Palette with six illuminating shades becomes the super gift to give and to get.
Organization and knowing all the details are two things Virgos can't be without. A present that's perfect for this beauty is Kevyn Aucoin The Lip & Cheek Palette Pink complete with 3x lipgloss, 1x cream blush and 1x lipstick.
Libras are very sociable and outgoing. They enjoy spending time mixing and mingling especially during the holidays. To help keep their pretty eyes on the prize, give them Nars Hanamichi Eyeshadow Palette.

'Tis the season when everything sparkles because holiday time is the right time for glitter and gold. When it comes to precious gems, there are plenty of perfumes that we treasure. Here's a handful of fragrances we know you'll favor that are beautifully jewel-inspired.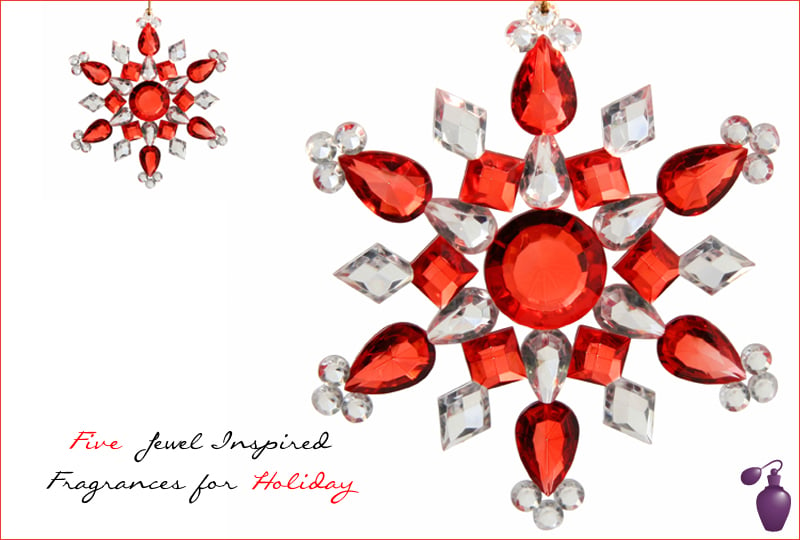 Diamonds are a girl's best friend and nobody lived that philosophy more than screen queen Elizabeth Taylor. Her signature scent,White Diamonds, is an iconic floral specialty that makes every woman ready for her close-up – aromatically anyway.
Speaking of movies, the Emerald City was the destination where Dorothy's dreams could come true. When it comes to enticing aromas, Judith Leiber Emerald is just as desirable.
The sun will come out tomorrow with all its beautiful yellow-orange glow. Speaking of something you can bet your bottom dollar on, Halston Women Amber will definitely make every woman shine in chic and stylish way.
Green is good, and not just when it comes to the environment! When it comes to sensuous scents inspired by beautiful baubles, Forever Jade by Songo is one that glitters with amazing aromas.
In order to get to the land of Oz, our girl Dorothy needed those dazzling ruby slippers. In order to achieve a fragrance that makes all of your dream aromas come true, all you need is C- Thru Ruby.

We like rocks – especially the priceless kind. When it comes to mining for precious stones, it's a lot of work but getting gem-inspired scents are much less labor-intensive. You can just a grab a hold of a stellar example we've happily dug up such as Quartz by Molyneuz.