In the expanding Costume National perfume portfolio there are scents both dark and brooding, and those that are light and sheer... Scent Gloss (a feminine fragrance launched in 2004) brings a whole other dimension to the Costume National universe! Just as the name suggests, it brings a flash of light to the line... the fork-lightning flare of light bouncing off black patent leather; the zig-zag of luminescence on a lip-glossed smile! Scent Gloss is very girly, and quite simply radiant!
Composed with three starring notes – purple orchid, tender rose and white musk - Scent Gloss is the embodiment of seduction... a dazzling floral bouquet with glistening fruity undertones that unquestionably delight and enchant. This offering from the iconic Italian fashion house is a favorite with women who wish to stand a head and shoulders above the others... it totally commands attention!
Scent Gloss is incredibly versatile and suited for any occasion - from date night to wedding day! Much like Costume National's unique and extraordinary fashions, Scent Gloss is quite unlike any other out there.
Any perfumisto worth his or her salt can attest to the proliferation of Oud perfumes flooding the market in recent years. A pungent oil extracted from the fungus-riddled heartwood of the Aquilaria tree, oud has a distinct scent profile which is generally regarded as two parts pigpen and one part woody/balsamic nirvana! It has been used for millennia in Middle Eastern perfumery, and was first introduced to the Western world with YSL's M7 in 2002. The trick (and challenge) in creating an exceptional oud perfume is to harness its polarizing barnyard characteristics and to masterfully blend it with other quality ingredients. In 2012, Italian accessory and perfume maestro's Acqua di Parma did just that with their unisex launch Oud Intense Cologne Concentrate.
An elegant and sophisticated creation, this perfume opens with a sparkle of citrus which ignites an orange fire in the scent's flight. Moments later, the oud note already makes its presence known... rising and spreading laterally through the composition. It is supported by aromatic coriander and fragrant amyris wood – a tree native to the Americas. It feels rich, commanding and expensive. Of course with Acqua di Parma perhaps best known for their exceptional leather accessories, warm leather notes and musks have been woven into the foundation of the perfume. The sum of all ingredients feel woody, musky, ambery and as if imbued with incense.
Complex and luxurious, Oud Intense Cologne Concentrate is at the pinnacle of Acqua di Parma's perfume holdings. It speaks of lavishness and opulence, and creates a distinguished mantle around all those who wear it. Experience it for yourself.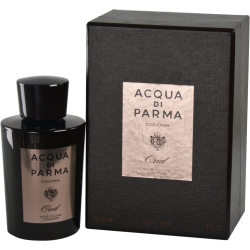 Tis the season for chocolate hearts, stuffed teddy bears and flowers ga-lore...but really (yawn) what a bore! Click thru these fun gift ideas for that special someone that pairs up well with their astrological sign. See if the pairing rings true for you ;)
Scorpio Love is in the air, Scorpio, and since we know you're the curious type, it's time to take advantage of it. The perfect fragrance for you to channel the mood is absolutely Adventurous Eau de Parfum Spray by Estee Lauder
Sagittarius Lessons in love are hard to learn, Sagittarius. It's good to guard your heart, but being open to amore is important too. So we suggest pursuing a happy ending with the aromas of Caution Eau de Toilette Spray by Kraft International Marketing
Capricorn The truth is Capricorn, it's hard to be brave when it comes to matters of the heart. But right now for you leaping into love will bring lots of rewards. The scent to inspire you then is no doubt Dare Eau de Parfum Spray 3.4 oz. by Quintessence
Aquarius Fortune favors the brave, Aquarius, so we suggest putting your best foot forward toward rocking romance. Setting the mood to be receptive is important, and Happy Eau de Parfum Spray by Clinique aims to please.
Pisces Live love to the fullest, Pisces. It's the best piece of advice we can provide to help guide you toward brighter horizons. The ideal perfume to light your fire is definitely Inspire Eau de Parfum Vial by Ellen Tracy
Aries Everybody knows your name, Aries, since your reputation in love and lust has plenty of admirers. No time like the present to use it in your favor, and Notorious Eau de Parfum Spray 2.5 oz. by Ralph Lauren Item will ensure you get the right recognition.
Taurus Infatuated with passion, Taurus? This is the season to celebrate that state of mind, so go after whomever you want to get. The scent to savor is obviously the aromatically addictive Obsession Eau de Parfum Spray 3.4 oz. by Calvin Klein

Gemini Passion is always in fashion, Gemini, when it comes to attaining objects of desire. Now is the time to strike if you want your romantic dreams to become reality. We suggest channeling the emotion through its signature scent, Passion by Elizabeth Taylor Eau de Toilette Spray 2.5 oz
Cancer A rebel without a cause isn't cool when it comes to love, Cancer, but we know in order to get everything you deserve you may have to break a few rules along the way. A fragrance that can help you get there is a namesake scent such as Rebel Eau de Toilette Spray 1.85 oz. by Saile International

Leo Since Leos are synonymous with lions, we all know they like to run free. Yet you may discover that liberation can be even more enjoyable when you have someone to share it with. So your fragrance find is the aromatically tamed Wildheart Cologne Spray 1.7 oz. Unboxed by Revlon
Virgo Keep your arms open for embrace and your lips cued for kissing, Virgo. It's your time to feel the love because sweet nothings are about to become serious business. The fragrance for this new winning frame of mind is of course Xoxo Eau de Parfum Spray 3.4 oz. by Victory International
Libra Time to take control when it comes to matters of your lonely heart, Libra. To get what everybody wants, you need to lay down the law about love. We believe the scent to arouse this ruling sentiment is Boss Eau de Parfum Spray 3 oz. by Hugo Boss