Nail designs and trends have been hotter than ever this summer and glitter is only the start of all the fun! Anyone who has used a glitter polish knows, it's not the easiest to remove, not even a little bit. That's why we're going to (try) to make it a bit easier for you to remove the glitzy glamour that happens to look amazing but manages to stay put on your nail when the trends are changing ever-so-quickly.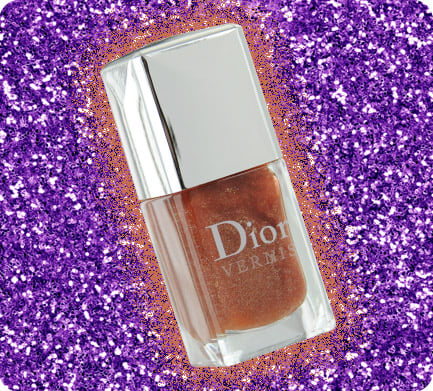 First, you'll want to saturate a cotton ball with nail polish remover (a remover with acetone works best)
Then you'll want to place the cotton onto each nail and wrap each finger with aluminum foil. Twist the tips and press down on your nails to ensure security.
Leave the tips on for about 5 minutes.
Lastly, pull the foil off of your nail and the glitter polish should slide off.
Let us know if you have a great tip for removing glittery nail polish, because we all know, it can really be a…pain, to say the least.
Some days you want to smell sweet, some days musky, and some days fresh…to death. Today was one of those days where I was looking for a fresh scent that I can keep my day going strong from the second I spray the scent to the moment I step foot into the gym and even after that, hit the showers. Jump start your day and keep it ever lasting with one of these fresh scents…which do you prefer?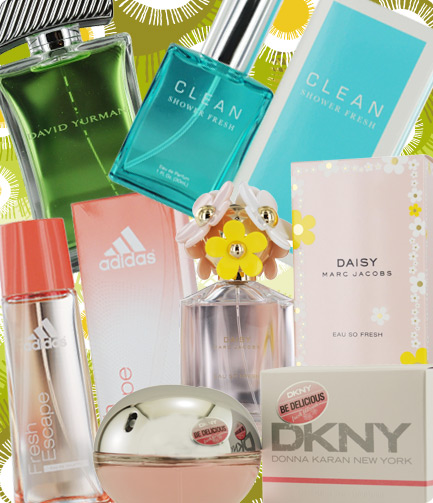 David Yurman's Fresh Essence will give you the sparkling feeling you need with a floral-fruity, fresh scent that opens with notes of apples, cassis, and fresh greens.
Clean Shower Fresh by Dlish is a very unique, very clean (obviously) yet light and feminine scent. It's really perfect for anyone and has fragrance notes of mandarin, lemon, lily of the valley, sheer woods, orange, musk, jasmine, orange flower.
Are you a dynamic woman who loves to stay sporty and live an active lifestyle? Stay fresh with Adidas Fresh Escape, which is based on none the less, fresh, fruity notes bringing light and clean notes and nothing but positive emotions.
Light and airy, DKNY Be Delicious Fresh Blossom is an eye opening, awakening scent full of citrus scents, including grapefruit notes missed with rose and jasmine petals. Talk about fresh and flirty!
Be oh so fresh in Marc Jacobs Daisy Eau So Fresh, clearly stated in its name, this floral fruity fragrance is full of freshness, with notes of grapefruit, greens, raspberry and pear. It's bubbly, playful, and very feminine. Ideal for spring or summer, we guarantee you'll love this eau so fresh perfume.
We recently launched, for the first time ever, a Father's Day contest, asking our lovely Facebook fans why their father deserves to win a $250 FragranceNet.com gift card. With an amazing (and a bit overwhelming) response, we've read through ALL of the touching, loving, and sweet responses and have finally chosen a winner. Trust me, this was no easy task, but it had to be done. So without further a due, CONGRATS to Kiersten Mitchell. See her response below!
Kiersten, we're so happy we can help you give a little something back to your father-in-law for all the great things that he does and for how true he sounds! CONGRATS again :)