Tired of those creases on your face, those signs of your skin aging...wrinkles?! And we bet you have thought about Botox too, but before you go and get shot up in your face with it, try these creams and serums, we personally think it beats Botox any day!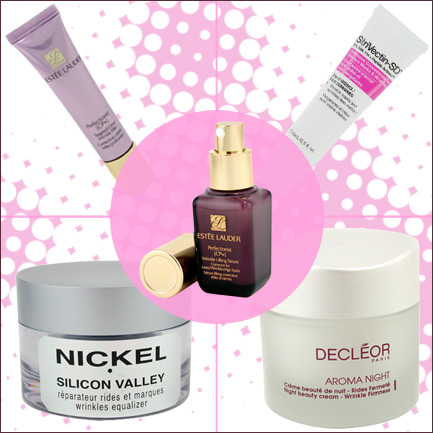 Diminishing the appearance of fine lines and wrinkles can be easy, when you use NICKEL Silicon Valley Wrinkle Equalizer. This cream-gel softens your skin using a silica-rich formula and immediately firms and tightens skin with it's patented vitamin complex. Immediately see a smoother appearance on your face with the cream-gel's light reflective actions.

DECLEOR Aroma Night Beauty cream comes in a rich texture that is designed to increase the penetration of the efficient ingredients in it, ingredients like corn, saiko, serine, and black orchard extracts. These ingredients plus evening primrose, plum kernel, and petitgrain essential oils promises to smooth wrinkles, sooth irritation, and prevent any moisture loss in the process.
Are you a perfectionist? Perfect! This Perfectionist Targeted Deep Wrinkle filler by Estee Lauder is the 'perfect' thing for you! This treatment will reduce smile lines, forehead creases, the lines between your brows, and even work magic around your eyes and lips. This product amplifies the skin's natural production of collagen, now how perfect is that?
It gets better though! If you use the Deep Wrinkle Filler with Estee Lauder's Perfectionist Wrinkle Lifting serum, you will see a noticeably younger looking skin in no time at all! This serum will dramatically reduce appearance of deep lines, wrinkles, and age spots. Leave your skin brighter, fresher, and smoother with this serum!
Want a remedy that does twice the work for not only your wrinkles, but those stretch marks too! Klein Becker's Strivectin-SD Intensive Concentrate for Stretch Marks & Wrinkles is a MUST HAVE item for any woman. This amazing product accelerates the process of your skin layers rebuilding…the result? See for yourself! Look into the mirror at a healthy-looking, younger looking skin! Skin that will get better and better with each and every use! Lather up!
Dry, damaged hair looks hideous and immediately effects your overall look. Not just noticeably diffult to deal with yourself, but noticably difficult to look at as an outsider looking in (sorry, but true!). Thankfully, we have some superb remedies to improve your hairs health in no time!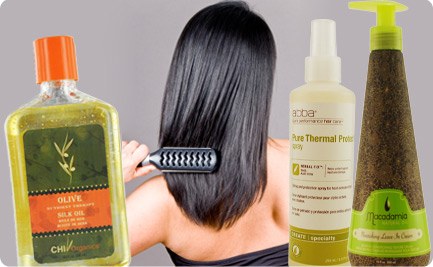 First, let's start with CHI's Organics olive nutrient silk oil. This 8.5 oz bottle full of light weight, leave in treatment, will work wonders on split ends and tangled tresses. The blend of natural oils and special blend of extracts will reconstruct and nourish your hair, while, most importantly, repairing it.
Need some UV protection along with detangling and taming of the most unruly locks? Macadamia Oil Nourishing Leave-In Cream will do the trick! Add shine and a silky softness to your hair with a pump or two of this leave in cream daily.
Not into the creams and lotions? Pump out Abba's Pure Thermal Protect spray for pure thermal protection, helping to protect your hair against heat and damage. Known for styling your hair with a million and one heat-activating hair tools? Use this protection spray for ah-mazing thermal protection PLUS, it's humidity resistant formula includes sage and aloe vera, so it not only keeps down the frizz but it smells, oh so good! Plus, this spray helps protect the shape of your style and locks it in. Miracle spray? Anyone?
Do you love glitter? Eye liner? Put it all together and what do you get? Glitter eyeliner! But would you dare wear it? You will after our easy as cake tutorial, and with our STILA glitter eyeliners on sale, you'll be trying this before you know it!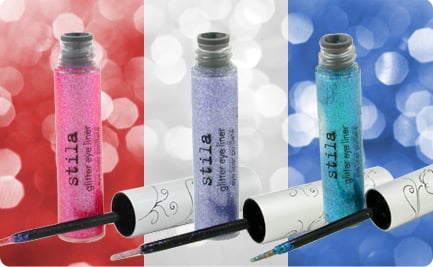 First, use a primer to begin with an even color base on your eye lids.
With a blending brush, apply a powder shadow to your lids just to create a base over the primer. Then with a mid-tone brown or neutral nude tone shadow, blend the color into the socket of your eye; this will define your bone structure and  the structure or your brow.
Now let's get to the glitter!
As a base, apply a similar color liquid liner before applying the glitter liner. So if you plan to use a blue glitter liner, line your lashline with a blue color liquid liner. This will create a more dramatic, clean look and also serve as a stencil later on. For an even more dramatic, fun look, create a gorgeous cat eye look by extending out the tail of that line on your lid.
Make sure the liner dries before you apply the glitter liner.
Follow the base liner line that you have created with the color liner with the glitter liner. Apply as much or as little of the glitter as you wish. Let this dry and voila, you're done!
What glitter liner color would you use?