When it comes to perfecting your curls, we know it can take an arsenal of products to control frizz and define your texture so we're here to help. Depending on what type of curls you have, you'll need to whip up a curly hair cocktail. Here are some of our favorite hair products for curly hair.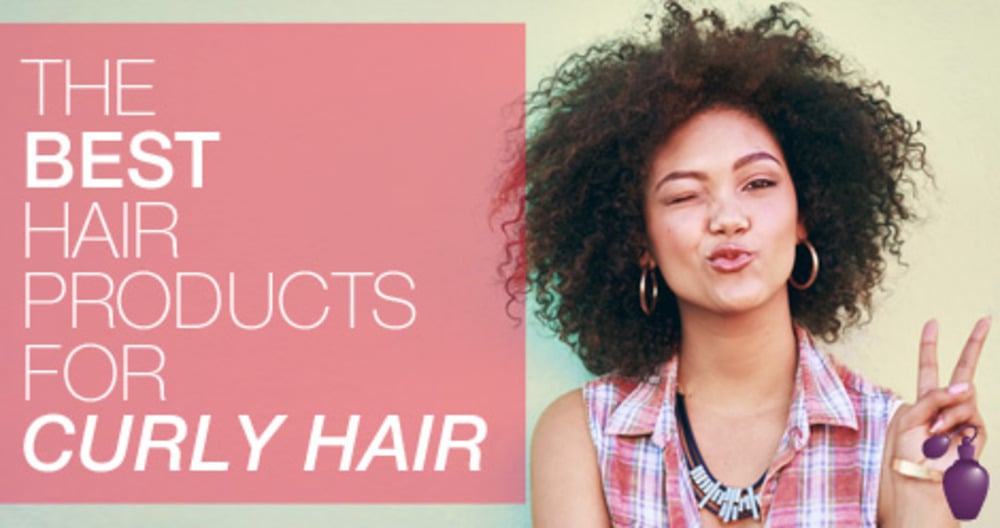 First off, find a shampoo and conditioner that is free of sulfates. Why? The presence of sulfates is bad for hair in general but it's especially harmful for us curly girls as it can strip the hair of its natural moisture and make it coarser. Chi's Curl Preserve Shampoo and Treatment is a low pH duo that cleanses, strengthens and protects while balancing hair's moisture level to create well-defined, frizz free curls with incredible shine.
After you're done giving your scalp a thorough cleanse, you'll want to help it retain moisture. Applying a leave-in conditioner and a hair serum will help fight frizz and preserve your precious strands. If you've got thicker, drier hair, don't be afraid to use a lot of product here, curly hair tends to absorb these easily. If your hair is thinner, try to use these products sparingly and start by running them through the underside of your hair, then apply to the ends of your strands, and the remainder to the roots to avoid any excessive buildup. The Living Proof Curl Leave-In Conditioner mixed with TIGI's Catwalk Curlesque Defining Serum is a great combo for any type of hair.
What product you mix into your routine next will depend on the type of effect you want. You can get smooth touchable locks with the help of a curl crème mixed with a curling lotion. These formulas are light and will keep your hair from "crunching." Bumble and Bumble's Curl Defining Creme will help to create a really defined look that's touchably soft. If you're opting for something with more definition and a stronger hold, try a light defining gel like DevaCurl's Curl Light Defining Gel.
What kind of curly hair cocktail are you most likely to rock this summer? Do you have a favorite product? Let us know in the comments below!
Simply said, the perfume pillars of yesteryear (which have endured to this day) are nothing to be toyed with! Greats such as Arpege, Joy, Mitsouko, and No.5 have all met their success because of their uniqueness and mass appeal, however, over the years all have been touched by reformulation as restrictions have outlawed the use of certain components. Guerlain's Shalimar (1925) was the scent that pioneered the 'Oriental' classification and remains until today, one of the brand's greatest success stories. So, rather than try and reinvent the wheel, the in-house noses Chez Guerlain have created a delightful flanker which borrows from the old, and breathes new life into it... Shalimar Souffle de Parfum (originally intended as a one-off flanker) first appeared in 2014, and has remained in production in the Guerlain stable for the past 3 years.
Just as the name might suggest, Souffle de Parfum is light and airy... Shalimar 'lite' perhaps. Presented in a blue glass flacon with violet/blue juice, Souffle opens with a shimmering citrus triple-threat; bergamot, mandarin and lemon... these twinkle over a lip-smacking rounded heart of jasmine and neroli, which are infused with a unique ozonic accord. The result feels textured and light, but does not compromise on persistence. Where the original Shalimar is ambery and vanillic in its trail, Souffle twinkles with white musk, liberating her from her famous great grandmother and allowing her to soar to new heights as her predecessor's modern sibling. Shalimar Souffle de Parfum is the ideal scent for all situations and all ages. She proudly acknowledges her fine pedigree, but also strides forward, asserting herself as an independent entity in her own right.
Still in production today, she has already outlasted countless other Shalimar flankers... doesn't that alone speak of her cheeky wiles and charms?
Don't miss her.
Perfume Serge Lutens is widely revered in the fickle perfume industry, first for his work with Shiseido in the 1980s and 90s, and more recently for the magnificent signature line he has developed since 2000. His work is commonly viewed as avant-garde and many have achieved "cult" status in the niche perfume world. His ideas and approach are often quirky and unconventional. Serge Noire, launched in 2008 is an artful perfume rendering of smoke, ash and wood… but one which is resolutely unorthodox - it has an almost Gothic feel. If compelling, mysterious scents are your bag, the Serge Noire delivers. It is a contrast of textures; damp and dry, gloomy and light.
Its' opening is somewhat surprising and polarising… flashes of wood and spice which take on an almost saccharine feel, but then swiftly taper away into a more sinister amalgam that brings to mind decomposition and decay. Some time later, the scent evolves once more and a lovely dry woody incense emerges which inspire mental images of gloomy churches burning resinous stones in concealed censers. There is a thread of warm amber, patchouli and cozy cinnamon that press up from below. Serge Noire feels both threatening and ethereal in equal measures… a "Brothers Grimm" approach to perfume, perhaps.
Many have come to love the creative brilliance and perfume narratives that spill from the perfumed pen of Monsieur Lutens. Serge Noire represents some of his most challenging and pioneering work yet.