No matter how committed you are to following Gwyneth Paltrow's enviable lifestyle as cataloged in GOOP, we recognize the reality of needing to find the "steal" items versus splurging at every turn. Case in point:
FRAGRANCE
You can't put a price on scent. Then again, we are fragrance junkies. With so many great choices -- and prices -- available, we say buy one…or buy all … that entices you. Our faves right now:
TREATMENT PRODUCT
Treatment products are like water – your skin's vitality depends on both. With advances in technology, there is a serum for even the most complex skin issues. Fortunately, there are also various price points.
HAIRCARE
The debate is still on about which is more important – shampoo vs. conditioner -- and which has the most impact on your hair. So which product should we spend the most on? We are torn; Both shampoo and conditioner feel critical to good hair days. And hair masques? A must-have. All the more reason to have fiscal options!

SUNSCREEN
As the most important tool in your beauty regimen, the price is less important than the ingredients. As we are not chemists or doctors, we relied on some to guide our research for the best – in all price ranges. This summer, we plan to slather, swim, and repeat with these:

Father's day is right around the corner (this Sunday), and he deserves some pampering. Picking out a gift for Mom is easy - any bubble bath or candle will do the trick. But we have a feeling Dad would enjoy some bathroom and self-grooming TLC as well. So, what's hot for him and will make the best gifts for Dad?

Cologne is always a good option, but with so many choices it gets difficult to decide! If Dad is pretty laid back and someone who doesn't typically use a fragrance, Bellagio's gift set is the perfect choice! Containing an EDT spray, aftershave balm, and shower gel in the brand's signature scent, this gift for Dad is sure to make him smile. Masculine, fresh, and slightly floral, Bellagio blends citrus fruits, white flowers, and subtle woodsy notes and can be worn day or night.
As an alternative for the man that regularly wears cologne and prefers something a little more sophisticated, Cuba's Cuba Gold gift set is a great option. An EDT spray, aftershave spray, and body spray are all included in this kit and are packaged to look like cigars – a completely legal alternative to the smoke-able Cuban's! Cuba Gold contains bergamot, vetiver, lavender, jasmine, and woodsy notes for an exotic, rich, and mature fragrance that is recommended for night time wear.
If cologne isn't the right choice for your Dad, why not put together a gift of shave and shower essentials? Clarins has a ton of options that target the specific needs of men, but are probably not things Dad would buy for himself. Some of our favorites are the Shave Ease Oil, Super Moisture Gel, Anti-Fatigue Eye Serum, Active Face Wash, and Total Shampoo. The Shave Ease Oil softens stuble to help eliminate razor burn with essential oils such as, rosemary, eucalyptus and mint; Super Moisture Gel also soothes, while drawing moisture to the skin and sealing it in for hours.

The hydrating gel firms, revitalizes and heals the skin after shaving. For in the shower, Active Face Wash tackles dirt, pollutants, and grime with a gentle foaming formula and contains Grindelia and Gaultheria extracts to help banish razor burn even further and Total Shampoo is a 2-in-1 hair and body wash the tones with Bison Grass and Chinese Galanga, conditions with Provitamin B5 and lifts moods with plant essences. Last but not least, Anti-Fatigue Eye Serum, a product Dad definitely wouldn't buy on his own, but will love once he tries it, helps to wake up tired eyes. The serum reduces dark circles, smoothes wrinkles, tightens, and deflates puffiness with a non-greasy, matte finish formula.




With options abound for Dad, what will you be giving him for Father's Day? Do you have any special plans for this Sunday, June 16th?
It's been said that you can't always have what you want...but in our contests case, you can win exactly what you want!
Here's how it works:
Head to our site, FragranceNet.com.
Sort through our tons and tons of product pages to see which fragrances, hair care, makeup, skincare, candles, (and more) you wouldn't mind winning.
Under the Brand Information of the product page (on the right hand side of the page), click the Want button. ((Note, the first time you 'WANT' an item, you will need to accept the app, so we can email you if you win, duh))
'WANT' as many or as few products that you wish to win. Check your emails to see if we sent you an email letting you know if you've won! Winner will be announced next week!
GOOD LUCK!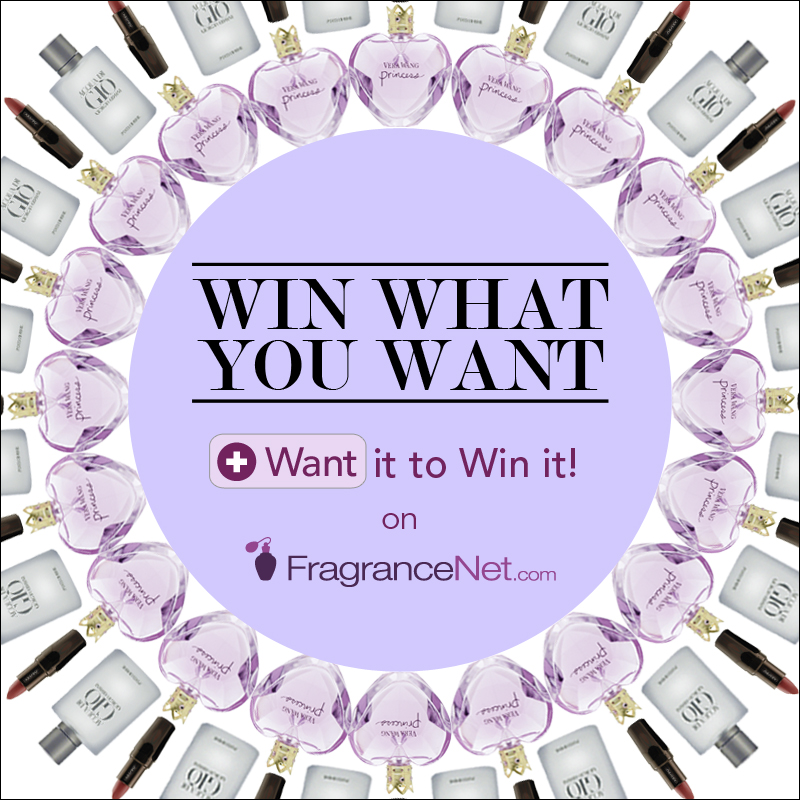 PAST WINNERS:
Congrats to Jenaca H, our Monday(5.13) Want It To Win It winner! Jenaca wanted Viktor & Rolf's Flowerbomb perfume...and guess what? She's getting it!
Isabella is our Want it To Win It and claimed her Vera Wang Princess perfume yesterday! Will you be the winner of what you want Wednesday?
Congratulations Joseph S, you are our Wednesday Want it to Win it lucky winner! Joseph wanted Play Intense cologne by Givenchy as one of his 'WANT' picks. In this case, he is definitely going to get what he wants!
Jennifer K, you're our Thursday Want it To Win it winner! We've emailed you....so if you can, email us back and we'll send you your 'WANT'ed pick of Full Metal Helmet Blue perfume by Parfums Full Metal Helmut.
And our final winner of of today's Want It to Win It contest is Josie H., who wanted the gorgeous Anais Anais perfume by Cacharel.
We're back at it...this time we're awarding winners on a weekly basis!
Congrats to Aleyda D. , you've won the Gucci II perfume you 'Want'ed on our site! Check your email and let us know where we can send it : )
Jamie L won a Loose Pigment Asphyxia Eye Color by Urban Decay from our site July 5th! It's on it's way to her already!
Congratulations to Amanda C! Amanda 'Want'ed Eternity perfume by Calvin Klein, and guess what, she's getting it! Be sure to 'Want' items on our site for your chance to win too!
CONGRATULATIONS TO Renee W. on July 19th, for 'WANT'ing and WINNING the XOXO perfume she wanted! Renee, please check and reply back to the email from us to redeem your prize!
Travis G. is the winner of our July 26th Want it to Win it contest on Facebook (and website)! Congrats Travis...we're sending you a bottle of Gravity cologne by COTY to you :)
WOO HOO...Congrats Tressie M., you are the winner of an Ed Hardy Variety cologne set you 'WANT'ed on our site yesterday : )
CONGRATS to Cheryl D from Illinois! She's our winner of the WANTed Angel Peony perfume by Thierry Mugler! Check your email we sent today (8.15) to redeem your prize!
CONGRATS TO Crystal E., the winner of our Win What You Want contest this week! We'll be sending her Provocative perfume by Elizabeth Arden! WOO HOO! Be sure to keep Wanting the Items you want to Win for a chance to win them next week!
Kirsten K, CONGRATS on your win today (9.9) & 'WANT'ing Pleasures perfume by Estee Laudee.
This week (9.16), Rosendo wins Emporio Armani Diamonds cologne by Giorgio Armani! We can't wait to send you your prize, so please check your email to redeem your prize!! CONGRATULATIONS!
This week (10.7), Micheal M. won the Dolce & Gabbana Light Blue cologne he wanted on our site! Stay tuned for YOUR chance to win!
We have a winner, a Gucci Guilty perfume winner (10.14). Congrats to Erika M. for 'WANT'ing and winning the very desirable, sexy fragrance! CONGRATS :)
Our lucky Facebook fan Kathy VonWallmenich 'Want'ed The One perfume by Dolce & Gabbana and guess what! SHE is the lucky winner this week (10.21)! Congratulations!
This weeks lucky winner (10.29) happens to "Want' Jean Paul Gaultier cologne...CONGRATS to Benjamin Garcia, you're getting exactly what you 'Want'-ed from FragranceNet.com!!
Danielle Harris, YOU are our winner this week (11.12)! We can't wait to send you the item you 'Want'ed on our site, Gucci Guilty Black Perfume by Gucci! Get excited!!! Congratulations!
Congrats to Annie Narine, our Want it to Win It winner this week, (11.25). We're sending her the gorgeous Organza perfume by Givenchy!
Yay for Sakeena Barrett, she won the Curious Heart perfume by Britney Spears that she wanted on our site! (12.2). CONGRATS Sakeena!!
Amira Sirene, Congrats, we're going to send you the Love at First Glow perfume you wanted on our site! (1.13.14) CONGRATS again :)
Laurie Stavaas Henkes, Congrats on Wanting and Winning the Angel perfume by Thierry Mugler! (1.27.14)
Rebecca Song, Congratulations on your win on what you wanted on our site, D & G 3 L'Imperatrice Perfume by Dolce & Gabbana! (3.17)

Anthony T of Illinois has won Declaration Essence Cologne by Cartier this week! CONGRATS Anthony T. (3.24)
Congrats to Hanna H for winning Jivago 24K perfume today! She wanted it last week...and this week, she's getting it! Congrats to you! (3.31)
We have a winner! Congrats to Svitlana this week, she won the Amethyst candle globe she wanted on our site! We'll be sending her the gorgeous scented candle today! (4.7)
Winner winner winner, Tim W. of Port Austin, Michigan has won the wanted item of his choice this week, Dior Homme (NEW) cologne by Christian Dior! CONGRATS to Tim! (4.28)
CONGRATS Heather B. L. from Pennsylvania! You won the Ed Hardy perfume you wanted on our site last week. Please check your email to redeem your prize! (5.5)
Congrats to Justice T. from Brooklyn, NY! He won Terre D'Hermes cologne just by wanting ito n our site! (5.12)

This weeks winner is Regina M. from Detroit, Michigan! Congrats Regina, you've won a bottle of Prada Candy perfume! (5.19)
Congrats to Felise H from St.Louis for winning the item she "Want"ed on our site, we're sending you Killer Queen perfume by Katy Perry! CONGRATS again! (6.2)

Yay for Chris Hayes, he won the Paco Rabanne 1 Million Cologne by Paco Rabanne that he wanted on our site! (6.9). CONGRATS Chris!
YES, we have a winner for this week! Congrats to Maria Rose of Moreno Valley, California for Wanting and WINNING the Beautiful perfume by Estee Lauder she wanted last week. CONGRATS Maria! (6.23)
Congrats Umm R. from Illinois! You are the lucky winner of the fragrance D&G Light Blue that you wanted last week on our website! ENJOY your prize :) (6.30)

Congrats to Denise M. from Reno, Nevada, you are our winner of the Want it to Win it FragranceNet.com contest this week. We can't wait to send you the Burberry Brit Summer perfume you Wanted on our site! CONGRATS :) (7.14)
Yay, congratulations to Christine A from Arizona! You've won the Viva La Juicy perfume fragrance you wanted on our site!!! Please check you email so we can ship your prize to you ASAP! Congrats again! (7.28)
Congratulations to all the winners!