As age sets in, none of us want to admit it. I want to share a few tips I have picked up over the years, that will help you look younger - NOW! I am not talking about some new miracle product, but rather a few simple lifestyle changes.
As you grow older, the body starts to slow down. Age sets in. None of us want to admit it.
Over the years, I have picked up a few tips that I want to share with you. No, I am not talking about some new miracle product. I am talking about a few simple lifestyle changes can help you turn back the hands of time – quick and easily.
1.STAND UP STRAIGHTand be proud! You will appear more confident and look younger. Here is a trick, practice standing with your arms down to your side. Next, turn your thumbs outward. Your shoulders automatically go back. Practice this, until standing up straight becomes second nature.
2.SLEEP– Having a good night sleep of 7 to 8 hours gives your body a chance to rejuvenate itself. With the right amount of sleep, you will wake up looking and feeling younger, more refreshed.
3.HAIR COLOR– Coloring your hair to hide the gray is a great way to hide the tell tale signs of aging. Choose a color that is close to your original color, so it naturally compliments your facial tones. If you like, consider high lights or low lights, since they do not require re-doing as often.
4.HAIR STYLE– Longer hair can actually make you look tired and worn down. Shorter hair eliminates the dry ends, creates a more bouncy look and can improve your overall youthfulness. Consider side swept bangs to expose and frame your beautiful face. Also, consider a layered style to create a more lively, shinier appearance.
5.MAKEUP– Avoid heavy makeup. Compliment your natural shades and don't load up on makeup. Use a light foundation, one that will not sink in to and highlight wrinkles. Try cream eye shadows.
6.UPDATE YOUR GLASSES– As our eyes change and our prescription glasses need changing, so does the style of frames. Updating your current frames creates a more current, up-to-date look.
7.BRIGHTER SMILE– A smile changes your whole face and makes you look more radiant, distracting from areas that show your age. Along with that smile, maintain a positive attitude – blocking negative thoughts that cause stress and wrinkles. Also, consider whitening your teeth. Coffee and other foods can stain our teeth over time, creating a dull look to our smile. Make your smile look bright and young by whitening them with an at-home kit or even visit your dentist for treatments that deliver faster results.
8.DRESS RIGHT– Outdated fashions outdate you! As your body changes, so should your wardrobe. Most importantly - avoid baggy clothes. Wear outfits that compliment your body and that help hide areas of concern. Have flabby arms? Try wearing three quarter length sleeves. Also, since our skin tone becomes lighter, duller with age – look for outfits with softer colors to better match your complexion.
9.UPDATE YOUR SHOES– Dull, worn and out of date shoes reflect the same on your appearance. Keep your shoes updated with the fashions and looking shiny and new.
10.TAKE CARE OF YOUR SKIN– Take a few minutes every day for a proper skin care regimen that will cleanse away impurities, exfoliate dead skin cells, hydrate and nourish the newly revealed skin cells, plus an eye gel or cream to target the crows feet. Proper skin care will help restore that healthy, radiant glow!
After you have tried some of these tips or if you have a few of your own, please share by commenting below!
David Pollock is a global safe beauty expert who has formulated products for some of the most recognized names in the business. He is a published author, radio personality and was recently named one of the "20 to Know" by Global Cosmetics Industry. Today, David is empowering women to take control of their health and beauty. Subscribe to his free newsletter at www.JustAskDavid.com
Paper, pen, highlighters, lip gloss...oh you know, the typical office essentials. You can imagine the amounts of product that lands on my (the social media gal) desk, from just in products to product requests from beauty editors from magazines, bloggers, and vloggers...and if you can't picture it, trust me, it's a lot! Definitely not complaining here, but the essentials...what are my essentials that I must have, can't go without, during a typical day of work? I'm glad you ask...here are a few of many.
Office Essential # 1: D&G 3 L'Imperatrice perfume by Dolce & Gabbana is the perfect pick me up when the clock seems like it's not tickin'. Notes include kiwi, watermelon, musk, and pink cyclamen. A quick sniff of this scent and I'm good to go...such a fresh, fruity, and not to mention girly fragrance. 
Office Essential # 2: Typically, after lunch, I like to touch up over my before-work, morning makeup application. Laura Mercier's foundation powder does the trick in diminishing shine. What's great about this product is if used dry with a puff, it matte's out shine, if used wet with sponge, you'll get greater coverage than a liquid foundation. Either way, try this foundation for a soft, velvety, smooth complexion.
Office Essential # 3: My last and most essential of the 'office essentials' is Philosophy's raspberry sorbet lip gloss. Not knowing it, I constantly am either licking my lips or biting them...which is why it's a good thing I have a slight obsession with lip gloss and applying it over and over...and over again. Maybe I lick my lips so much because this raspberry sorbet lip gloss tastes so so good, but hey, it works because Philosophy lip glosses are not only scrumptious and deliver a high shine BUT it's formula smoothes and softens lips. Treating your lips and pleasing your sweet tooth (without the calories) never felt so good!
What's a 'wow' worthy scent to you and why?
This is what I took the liberty of asking some fellow employees and fragrance fans on Twitter and boy did I get a long, long list of responses. Something I've learned, people love (LOVE) to talk about themselves...but more importantly they love to express what scent they love wearing and why. Hey...I'm not complaining, it makes my job easier...so shall we have some fun and dig in?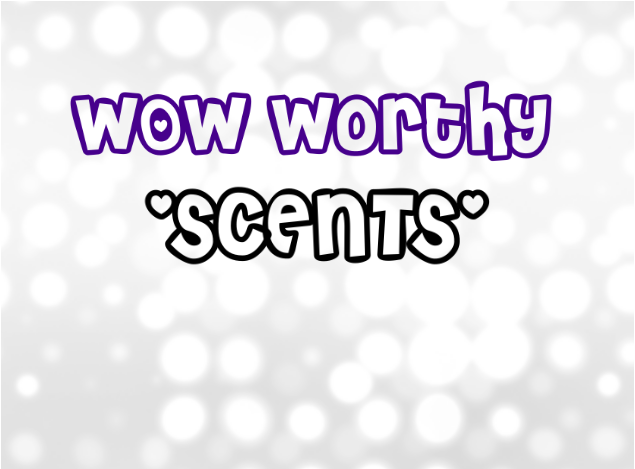 @LibbyStady says her 'wow' worthy scent is "Michael Kors Gold...makes me feel like a million bucks!"
@Bayou_dreamz says, "Issey, Gucci, Coach Poppy, & Princess". 
@Francis_Queen said, "Lady Million" ... we bet it makes her feel like a million too!
Joe, a cool cat from our web team is into scents smelling like fresh laundry..."smell + warmth=awesome". Clean Fresh Laundry candles come to mind with this favorable scent. The just-showered cleanliness fragrance promises to give you confidence and energy.
Justine, a member of our marketing team can't get enough of Marc Jacobs Lola Velvet. She says she "really likes it. It lasts all day, smells very fresh and it's not overwhelming. It's not too citrusy, which I hate."
Another member of our marketing team, Patti, says she thinks Simply Belle is a 'wow' worthy scent. Want to know why? Because it's fresh and reminds her of spring...something we all really need now, especially after Hurricane Sandy and not to mention this nor easter! 
Pam, a staffer at FragranceNet.com says Viva La Juicy is very "wowish' to her. "It's not that fruity and has hints of vanilla. It's not too sweet and it lasts for a long time."
Janene, one of our creative team members says she thinks Jean Paul Gaultier perfume is great, "it has a fruity, womanly scent that makes you go 'wow'."
SO, now I have a question for YOU...what's your 'wow' worthy scent...and why?