Cherry Vanilla Aromatherapy
Hi-Vitamin Nourishing & Replenishing Therapeutic Lip Balm

100% Authentic
Item #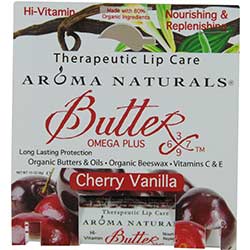 Zoom
hi-vitamin nourishing & replenishing therapeutic lip balm .15 oz
Free Shipping in U.S. (orders over $59.00)
No reviews written for this product
I love the cherry vanilla aromatherapy therapeutic lip balm!!! I have tried several other organic & non organic brands but none are anywhere near as good as this one! I've tried all the flavors & types in this line but the Cherry Vanilla is my favorite! It feels like it has a sugar exfoliator that some of the others don't.
Written by Renee on July 24, 2016
These lip balms are the finest I have ever used. Their emollient qualities are remarkable, the taste is very pleasant. I'm most pleased to find them still offered by Fragrancenet.
Written by J.A.G. on October 30, 2015